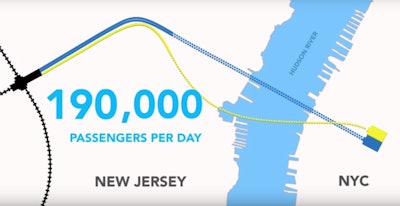 Common Good, a nonpartisan group that aims to simplify government, has released a video from former "The Daily Show" writer Alex Marino that stresses the need for an expedited permit approval process for the Gateway Rail Tunnel Project in New York City.
"The Gateway Project—Saving New York form 'Transportation Armageddon' " spans roughly four minutes and uses fast editing, animations and timelines to provide highly detailed examinations of the impact of the project.
The expansion of commuter rail in the area is estimated to double the capacity of commuting underneath the Hudson River, and thereby reduce car traffic. Common Good estimates 100,000 jobs would be created in the construction, and the project would have an estimated $9 billion economic impact.
The organization says the video is part of their "Who's in charge around here?" campaign launched August 1, and is co-chaired by former Sen. Bill Bradley (D-NJ) and Common Good Chair Philip K. Howard.
"This captivating video highlights the public's stake in expediting the Gateway Project," said Philip K. Howard. "We need to be vigilant to avoid delay in the Project—and the unnecessary costs and environmental damage that delay will produce."
Howard recently produced the report "Billions for Red Tape: Focusing on the Approval Process for the Gateway Rail Tunnel Project" to also highlight the need for a better permitting process for the project that "could save taxpayers billions and avoid significant environmental harm."
Ultimately, the "Transportation Armageddon" video boils down to a social media campaign, calling on folks to tweet at the various entities involved, including Amtrak, the U.S. Department of Transportation, governors and even the president, using the hashtags #GATEWAYPROJECT and #TAKECHARGE.