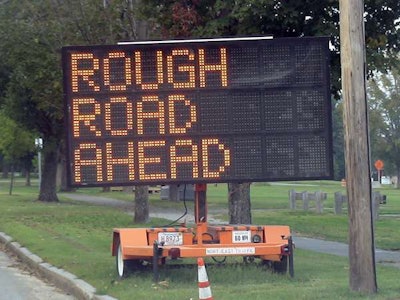 Even though President Trump and Congressional Democratic leaders have recently hit a rough road discussing infrastructure policy, a bipartisan group of policymakers, Problem Solvers Caucus on Capitol Hill, is pushing forward with its own plan of action, Transport Topics reports.
The bipartisan caucus has 44 members; 22 Democrats and 22 Republicans.
In its report, "Rebuilding America's Infrastructure," the caucus recommends offering incentives to states to move toward public-private partnerships, which could help to repair or build large projects. It also calls for indexing fuel taxes and phasing in a gasoline tax increase.
"The user fee on gasoline is not indexed to factors, including fuel economy standards, construction costs, or inflation, resulting in a user fee with a purchasing power that is worth 40 percent less than its value in 1993," the report states, according to the news agency. "Technological innovations and federal fuel economy regulations have made vehicles far more efficient, resulting in further reductions in revenue for the [Highway Trust Fund]."
The group proposes charging automated vehicles a fee for vehicle miles traveled, charging an annual registration fee for electric and hybrid electric vehicles, and designating a liaison for rural affairs within federal agencies. The group also calls for streamlining the environmental review process, helping states with project delivery and tool financing, and protecting infrastructure systems from cyber attacks.
"Investing in our nation's infrastructure shouldn't be a partisan issue — it's just common sense," says caucus co-chairman Rep. Josh Gottheimer (D-N.J.), according to the news agency. "It's time to get a better [return on investment] in New Jersey for our existing tax dollars."
"We all know our infrastructure is crumbling, and we care about the people who feel the impact of our crumbling roads, bridges, ports, and utilities every day.," adds caucus co-chairman Rep. Tom Reed (R-N.Y.), according to Transport Topics. "Congress must come together to act on this issue now, not later."
"Fixing our crumbling roads and water infrastructure is not a partisan issue — it's something we should be able to come together across party lines to address," says Rep. Elissa Slotkin (D-Mich.), another caucus member, according to the news outlet.