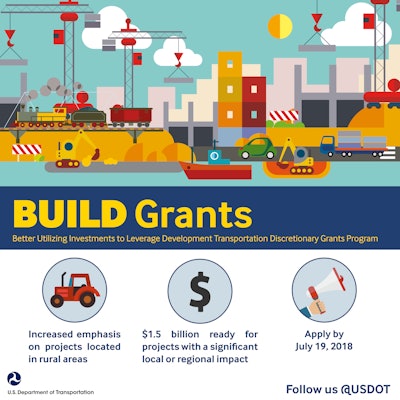 The TIGER grant program the U.S. Department of Transportation provides to states and local communities for transportation projects has a new focus, more money and a new name.
Under the Trump administration, the grants will be known by the acronym BUILD, which stands for Better Utilizing Investments to Leverage Development. TIGER, formed during the Obama administration, stands for Transportation Investment Generating Economic Recovery.
Last year, the federal government allotted $500 million for TIGER grants. Under the new spending bill passed by Congress in March, the program was tripled to $1.5 billion for fiscal year 2018. This month, the Department of Transportation announced the change to the program.
The BUILD grants will now be geared more toward rural areas rather than urban areas, the department says. The grants are to be awarded on a competitive basis for regional projects, such as roads, bridges, transit, rail, ports or intermodal transportation.
"BUILD Transportation grants will help communities revitalize their surface transportation systems while also increasing support for rural areas to ensure that every region of our country benefits," said U.S. Transportation Secretary Elaine L. Chao.
USDOT is beginning to take applications for the first round of grants, 30 percent of which must go to rural areas, the agency says. The individual grant maximum will be $25 million and no more than $150 million can go to one state. The deadline to apply for the 2018 fiscal year is July 19.
Criteria for the grants include "safety, economic competitiveness, quality of life, environmental protection, state of good repair, innovation, partnership, and additional non-federal revenue for future transportation infrastructure investments," USDOT says.
USDOT has set up webinars to discuss the new grants with potential applicants. Each webinar is from 2 to 4 p.m.:
May 24: how to compete for BUILD Transportation Grants for all applicants.
May 29: for rural and tribal applicants.
May 31: how to prepare a benefit cost analysis for a BUILD application.
For more details on the webinars, go to transportation.gov/BUILDgrants.
The USDOT says the congressional spending act provides for nine rounds of BUILD grants, totaling $5.6 billion.