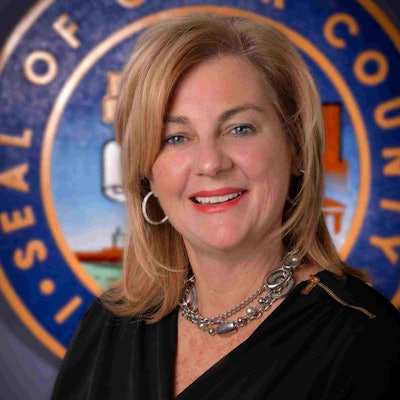 Former Cook County Commissioner Elizabeth 'Liz' Gorman has been named the new executive director of the Illinois Tollway, effective March 1.
She brings both public and private sector experience, which includes leadership to deliver economic growth, transportation and public safety initiatives, according to tollway officials.
As executive director, Gorman will lead the Illinois Tollway, which oversees the state's 294-mile tollway system and the agency's $1.45 billion annual budget.
The Illinois Tollway Board of Directors appointed her during their Feb. 23 meeting.
"On behalf of the Tollway Board of Directors, we are pleased to welcome Liz Gorman to the Illinois Tollway as Executive Director," says tollway Chairman Bob Schillerstrom.
"As a business and community leader, Liz Gorman provides an intimate understanding of the power of collaboration, technology and innovation. We have confidence that Liz's leadership will be an asset to the tollway and its customers and her vast experiences will help to improve our transportation network for the region and the communities we serve."
Gorman says she looks forward to working closely with the Illinois Tollway team to maintain the agency's status as a national leader in transportation.
"We have a robust capital program that will not only increase the vitality of the region's transportation network, but will also drive economic growth and job creation while ensuring an inclusive and diverse workforce," she says.
Gorman most recently worked as the director of state and local government at PricewaterhouseCoopers.
Her public service includes 13 years as a Cook County commissioner and Forest Preserve District Ccmmissioner. She's known as an advocate for economic growth, transportation, and public safety initiatives.