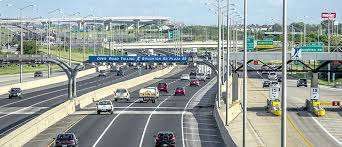 The Illinois Tollway Board of Directors approved five construction contracts and three professional engineering service contracts totaling nearly $20.2 million at its December 21 meeting.
And in all, the board approved nearly $936.5 million in contracts for 2017 for the tollway, an administrative agency of the State of Illinois.
Of those 86 contracts, 78 were given to "unique construction and professional engineering service firms, providing opportunities for diverse firms varying in size and levels of experience," the tollway says in a press release.
These firms provided the new SmartRoad on the Jane Addams Memorial Tollway (I-90) as well as the new Illinois Route 390 Tollway.
The contract awards mark the final board action for the sixth year of the tollway's 15-year, $14 billion capital program, Move Illinois: The Illinois Tollway Driving the Future.
"As we complete the sixth year of Move Illinois, our success is twofold," says Illinois Tollway Executive Director Greg Bedalov.
"We are improving travel for our customers with new roads and enhanced access, and at the same time, we are a driving force for increasing economic development opportunities in the diverse communities we serve."
Illinois Tollway invested more than $5.4 billion in five years
Overall, more than $5.4 billion has been invested by the tollway since the Move Illinois Program began in 2012 – with more than $1.5 billion of that total committed to small, diverse and veteran-owned firms, the tollway says.
Of the 1,275 firms participating on contracts during Move Illinois, 815 are working with the tollway for the first time. In addition, the capital program has created or sustained an estimated 56,300 total jobs as of November 2017, according to a press release.
The agency maintains and operates 292 miles of tollways in 12 counties in northern Illinois that cover five routes.
A sampling of the December construction contracts awards:
A $6.7 million contract to Lorig Construction Co., Des Plaines, IL, for pavement and bridge repairs on the Tri-State Tollway (I-94) between Russell Road and Half Day Road.
A $4.3 million contract to F.H. Paschen, S.N. Nielsen & Associates, Chicago, IL, for pavement and structural preservation on the Veterans Memorial Tollway (I-355) between I-80 to I-55.
A $1.4 million contract to Pagoda Electric & Construction, Flossmoor, IL, for camera enhancements systemwide.
Tollway provides online resources on construction contracts
The Illinois Tollway provides information about its construction contracts through the Construction Contract Tracker on the website illinoistollway.com.
Contractors and consultants can access resources online to learn how to do business with the tollway, including bid-letting schedules, under the website's "Doing Business" section.