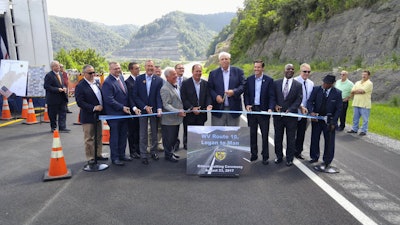 West Virginia Gov. Jim Justice and Secretary of Transportation Tom Smith along with other state, federal and local leaders recently marked the opening of the final 6.7 miles of the upgraded four-lane section of WV Route 10 between Logan and Man.
The project, which cost roughly $198 million, begins north of the Rita Mall and ends in Logan. It finished the 12.7 miles of four-lane partial access controlled highway from Logan to Man.
"Today's ribbon-cutting represents a pure team effort from federal, state and local partners," Justice says. "I am grateful for everyone's continued support and patience on the completion of this milestone project."
"I know others share my sentiments when I say how excited the West Virginia Division of Highways is to be able to open this section and provide a safe, efficient roadway for these communities," says Smith.
"Many more projects like this to come when voters approve the Road Bond Oct. 7," Justice wrote on Twitter.