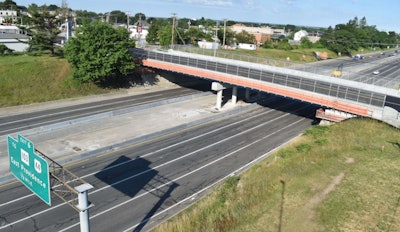 The Rhode Island Department of Transportation (RIDOT) has reopened the Pawtucket Avenue Bridge in East Providence about five weeks earlier than scheduled.
RIDOT reports 23,000 vehicles per day travel across the structure over the Interstate 195 corridor and is one of the most traveled bridges in the city.
The agency's project management team worked with the contractor to compress the work schedule in multiple phases. These include:
Demolition activities, which required the bridge to be closed and lanes to be reduced and shifted on the highway below were reduced from four weekend closure to three.
The installation of the beams for the new bridge – also expected to take place over another set of four weekend closures – were done during overnight hours with only brief traffic stoppages as each piece was set into place.
Other recommendations proposed and implemented by the Project Management Team limited the number of lane closures on I-195 and on- and off-ramps. This included a proposed two-month closure of one lane of I-195 West under the bridge. These decisions improved safety and aided the movement of traffic during the most restrictive of closures.
Overall, eight full weekend closures were reduced to just three.
RIDOT says accelerated bridge construction methods were used with the intention of replacing the bridge in just four months. With traditional construction methods, it would have taken two years to complete the work.
"I want to commend the Project Management team on their work and their initiative, to not just operate under the schedule they were given but to consistently work toward improving the construction process and get this bridge back into service in the shortest amount of time possible," says RIDOT Director Peter Alviti Jr. "RIDOT has adopted this model of construction management and project delivery – an industry best-practice – for this very reason, to ensure projects are delivered on time and on budget, or better. And this project is a perfect example of how the new RIDOT is successful in using the project management model."
RIDOT says the phase of the project to remove lane shifts on I-195 and the overall project also is ahead of schedule. The Pawtucket Avenue Bridge, originally built in 1959, was one of Rhode Island's many structurally deficient bridges that is being replaced through the RhodeWorks program.