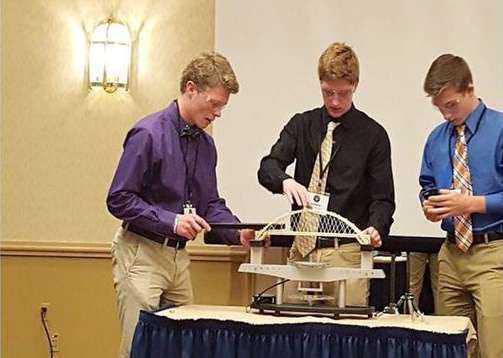 The American Association of State Highway and Transportation Officials (AASHTO) recently recognized winners of the 2017 annual Transportation and Civil Engineering (TRAC) Bridge Challenge during its spring meeting last week in Portland, Maine.
High school students build miniature bridges out of balsa wood, glue and string during the event. Judges test the structures for strength and design, and the teams must make presentations about their bridges.
The association reports 18 teams competed in this 15th year of the event, and were chosen from more than 250 teams that applied. Applicants are members of TRAC and AASHTO's Roadways in Developing Elementary Students (RIDES).
"AASHTO and its industry partners understand that if America is going to stay competitive, more young people must get involved in engineering," says Linda Clifton AASHTO TRAC and RIDES manager. "The TRAC and RIDES programs and this annual competition are both incentives and opportunities for students to learn about the transportation industry and apply the math and science skills they learn in the classroom out here in the real world."
The 2017 winners include:
11th and 12th grade division: First place, Negaunee High School, Negaunee, Michigan; second place, Moss Point Career and Tech, Moss Point, Mississippi; and third place, Annapolis High School Annapolis, Michigan.
9th and 10th grade division: First place, Kat Homeschoolers, Portage, Michigan; second place, Northville High School, Northville, Michigan; and third place, Brandon High School from Ortonville, Michigan.
7th and 8th grade division: First place, Meads Mill Middle School, Northville, Michigan; second place, Da Vinci Academy in Davis California; and third place, Portage Central Middle School, Portage, Michigan.
Bentley Systems, Michael Baker International, PECG, HDR, HNTB, IRD, Transystems, NCSPA, ADS, Volkert, Cambridge Systematics, Transpo Industries and Housman and Associates sponsored the competition. More details on the TRAC and RIDES programs area available at trac.transportation.org.