The Trump Administration's budget outline released this week continues to reference the much-touted $1 trillion in infrastructure investments and proposes $200 billion in public support over 10 years to reach the figure.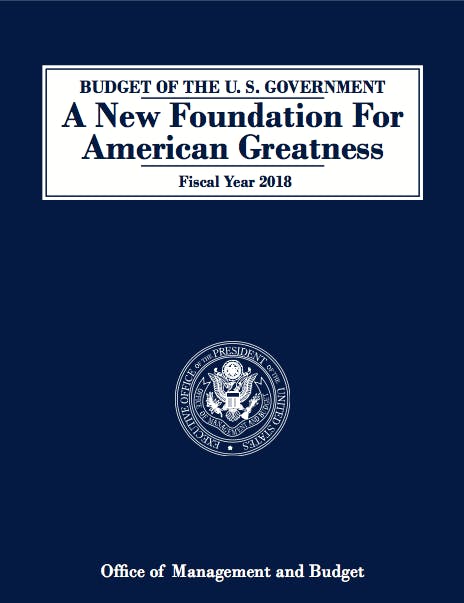 The $1 trillion amount "will be funded through a combination of new Federal funding, incentivized non-Federal funding, and newly prioritized and expedited projects," according to the budget document. "While this Administration proposes additional funding for infrastructure, we will structure that funding to incentivize additional non-Federal funding, reduce the cost associated with accepting Federal dollars, and ensure Federal funds are leveraged such that the end result is at least $1 trillion in total infrastructure spending."
The administration's budget calls for the support in the following amounts (Table S-6 below):
$5 billion – 2018
$25 billion – 2019
$40 billion – 2020
$50 billion – 2021
$40 billion – 2022
$20 billion – 2023
$10 billion – 2024
$5 billion – 2025
$5 billion – 2026
$0 – 2027
The proposal includes discretionary spending for the Transportation department at $18.6 billion (estimated) for FY 2017 and $16.2 billion for FY2018, a 12.7-percent decrease. In the Emergency Requirements section of the discretionary portion of the budget, FY2017 estimate is $1 billion, for 2018, it is $0. The Highway Trust Fund would see an initial increase in outlays for FY2018-2020, then reductions through 2027 for a 10-year reduction of $95.3 billion.
As part of the funding proposals for infrastructure, the administration outlined several examples in an accompanying fact sheet, including:
Expand the Transportation Infrastructure Finance and Innovation Act (TIFIA) Program.
"TIFIA helps finance surface transportation projects through direct loans, loan guarantees, and lines of credit. One dollar of TIFIA subsidy leverages roughly $40 in project value. If the amount of TIFIA subsidy was increased to $1 billion annually for 10 years, that could leverage up to $140 billion in credit assistance, and approximately $424 billion in total investment. In addition, the Administration supports the expansion of TIFIA eligibility."
Lift the Cap on Private Activity Bonds and Expand Eligibility to Other Non-Federal Public Infrastructure.
"The Private Activity Bonds (PABs) program allows the Department of Transportation to allocate authority to issue tax-exempt bonds on behalf of private entities constructing highway and freight transfer facilities. PABs have been used to finance many Public Private Partnerships (P3s) projects, along with TIFIA. As of August 15, 2016, nearly $11.2 billion in PABs have been issued for 23 projects. The Administration recommends removing the $15 billion cap under current law to ensure that future P3 projects can take advantage of this cost-saving tool, and encourage more project sponsors to take advantage of this tool. The Administration also supports the expansion of PAB eligibility."
Liberalize Tolling Policy and Allow Private Investment in Rest Areas.
"Tolling is generally restricted on interstate highways. This restriction prevents public and private investment in such facilities. We should reduce this restriction and allow the States to assess their transportation needs and weigh the relative merits of tolling assets. The Administration also supports allowing the private sector to construct, operate, and maintain interstate rest areas, which are often overburden and inadequately maintained."
Environmental Review and Permitting Process Enhancements.
"The environmental review and permitting process in the United States is fragmented, inefficient, and unpredictable. Existing statutes have important and laudable objectives, but the lack of cohesiveness in their execution make the delivery of infrastructure projects more costly, unpredictable, and time-consuming, all while adding little environmental protection."
For the latter, the Trump administration would seek to remove inefficiencies in environmental performance analysis, increase accountability for review and permitting projects across agencies, designating a single entity for approvals, remove "unnecessary" approvals and implement judicial reform to minimize the amount of time agencies must take in creating "litigation-proof" documentation.