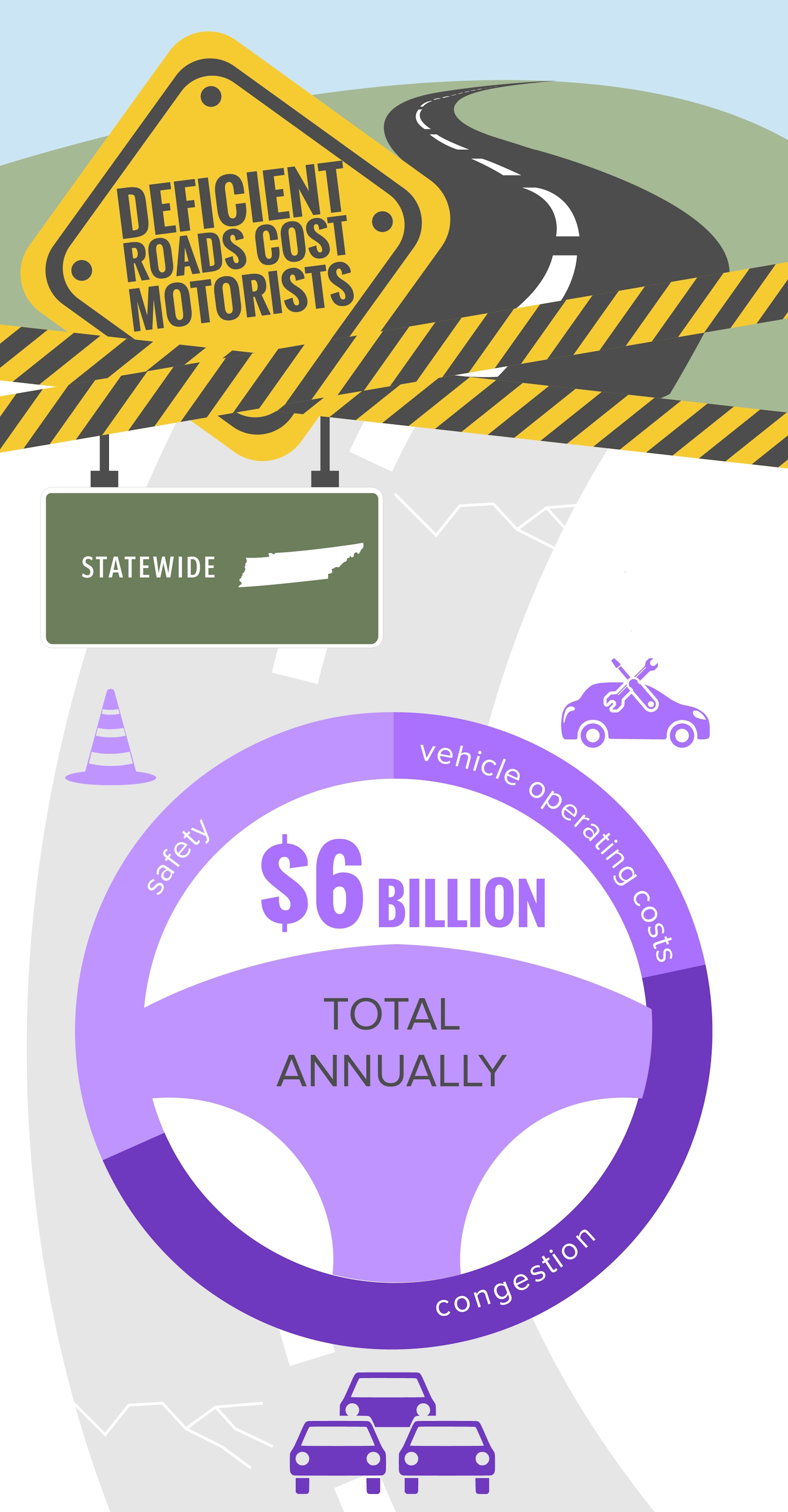 The condition of bridges and roads in Tennessee costs motorists there $6 billion per year in additional vehicle operating costs, safety and congestion problems, according to The Road Improvement Program's (TRIP) latest state condition report.
The report "Tennessee Transportation by the Numbers: Meeting the State's Need for Safe, Smooth and Efficient Mobility," indicates 11 percent of the state's major locally and state-maintained urban roads and highways are in poor condition, with 13 percent being in mediocre condition, 13 percent in fair condition and 63 percent in good condition. Five percent of the state's bridges are rated as structurally deficient.
Across the state, vehicle operating costs for motorists are $1.3 billion, with safety-related issues costing another $1.9 billion and traffic congestion reaching $2.8 billion.
TRIP says travel in Tennessee increased by 9 percent between 2013 and 2016, leading to increased congestion, and traffic fatalities rose by 8 percent in 2016 compared to the previous year. The state's overall traffic fatality rate is 1.25 per 100 million vehicle miles of travel, compared to the national average of 1.13.
"The very foundation of traffic safety is our roadways. Our roads and bridges must be adequate in capacity and must be maintained properly," says Stephanie Milani, Tennessee public affairs director, AAA—The Auto Club Group. "AAA supports a well-funded transportation system with a comprehensive approach to safety, and so do the drivers on our roads. In fact, approximately two-thirds of adult drivers believe the federal government should invest more to improve roadways, according to a recent survey by AAA. The numbers from TRIP are staggering and show the urgency for a comprehensive transportation funding plan."
TRIP periodically releases state and national reports such as this one to highlight the need for additional investments for transportation infrastructure at the local, state and national levels. These reports are available at tripnet.org.