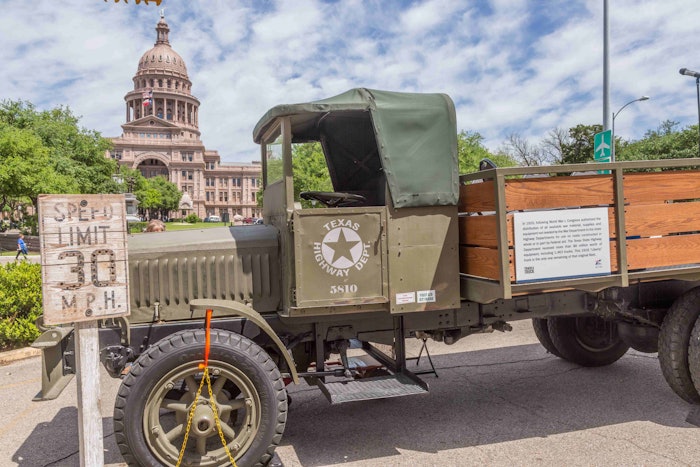 The Texas Department of Transportation (TxDOT) officially marked 100 years of service April 4 with an employee event at its downtown Austin headquarters, along with the appearance of a travelling exhibit featuring a refurbished 1918 Liberty Truck that's being used as time capsule of the department's history.
"We are extremely grateful for the century of support from our elected leaders and citizens who have helped us build one of the greatest transportation systems in the world," says TxDOT Executive Director James Bass. "As a long-time TxDOT employee, I have been blessed to know and work with so many extraordinary people who have helped shape the daily lives of all Texans. As we celebrate our past, we look forward to delivering new projects that will keep Texans moving for the next 100 years."
Along with the truck, which can be tracked on the "Track the Truck" section of TxDOT's centennial website, the travelling exhibit offers historical photos and a visual timeline highlighting significant dates and achievements.
"Our traveling centennial exhibit affords us a great opportunity to thank the public and share a uniquely historical perspective of how our roadways have evolved from their early beginnings into the expansive network we know today," Bass says.