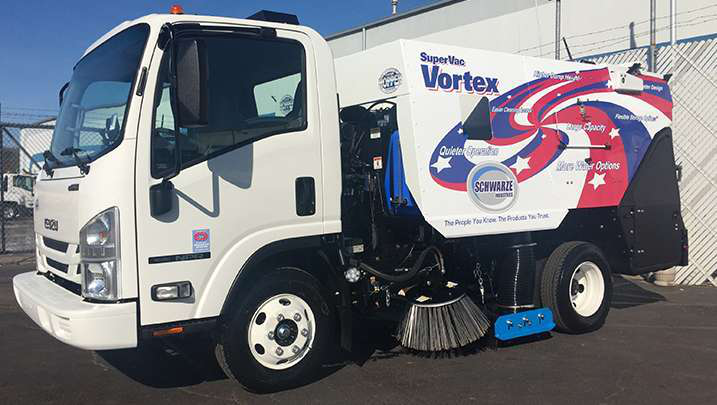 Schwarze Industries has launched a new sweeper truck with its SuperVac Vortex, based on the design of the SuperVac Gale Force and SuperVac Updraft machines.
"The new enhanced SuperVac Vortex is a perfect blend of functionality and affordability and continues our commitment to the customer to innovate and advance our products," says Jim Adair, director of product management.
The SuperVac Vortex offers the Isuzu NPR Gas chassis, a 109-inch wheelbase and a 31 hp Kohler liquid cooled fuel injected engine.
Other features include:
Dump height of 77-inches
Heavy chain intake baffle, which slows debris as it enters the hopper
4.8 cubic yard hopper
C12 stainless steel hopper standard
Separate dump and screen cleanout doors
Screen cleanout door fitted with a lever to open and prop door from the ground level
Hydraulic cylinders on the dump door sequenced to open before hopper lift
Adjustable dump door hinges
Built-in dual rear hopper strobe lights
Optional shroud with sound attenuating foam inner liner
159-gallon water capacity; 93 gallon standard, with a 66 gallon option
Schwarze says the SuperVac Vortex began shipping this month.