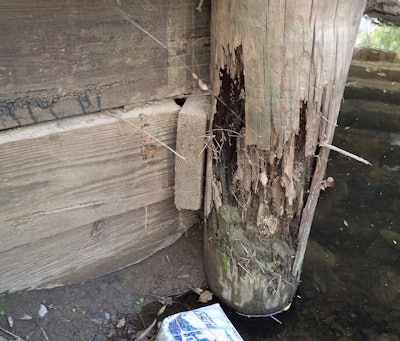 The bridge engineer's department in Lancaster County, Nebraska, maintains 53 rural bridges that are more than 50 years old. The Lincoln Journal Star reports that the bridges are built with timber support beams and obsolete foundations, and that most were built too short for the streams they span.
The county's bridge engineer, Chad Packard, told the news agency that his office spends much of its time maintaining the bridges, despite the extremely small amount of traffic they carry on a daily basis.
"How much money do you spend on a 50-year-old bridge with limited load capacity that serves a couple dozen vehicles a day?" Packard asked the news agency. "It is a question of cost vs. benefit. While a seemingly insignificant 20-foot bridge on an isolated stretch of road appears unimportant to most, it can be critical for the citizens it serves."
Packard told the news agency that county officials have closed four bridges over the past years after deciding the cost of repairing them exceeded the benefit of keeping them open. Another bridge was closed on August 22 and will remain closed for a month.
"If you want to get people angry, close a bridge," Packard told the news agency, adding that he gets phone calls nearly every day about bridges the county has closed. He said the county has a rigorous inspection program for its most critical bridges and that it inspects all 53 bridges after every storm to ensure their safety. If a bridge's safety is questionable, the county will close it. "If a cost-effective solution for each individual site cannot be determined, the road is closed permanently until replacement funding becomes available."
According to the news agency, County Engineer Pam Dingman asked the county board for $9 million more for her 2017 budget in order to replace five bridges and pave 11 miles of new roads, but commissioners told her they would only increase her budget by $1 million. She said it costs $1 million to replace just one bridge, so she likely won't be able to complete many new projects.
Packard told the news agency that the county will probably continue to make emergency fixes to its aging bridges, noting that "repair is the much, much more affordable strategy than replacement."
Local residents Gary Nobbman and Roberta Sward hope that county leaders will start funding projects that will keep the bridges open. "It's inconvenient," Sward told the news agency after the bridge she used to get to and from work was closed, making her drive time longer. "I just wish they'd get it done."