Pavement preservation techniques, such as diamond grinding and grooving, have taken on larger roadbuilding roles, in part because state and local governments needed to make the most of their existing roadways.
But even with a five-year federal highway bill now in place, the need for this type of work is still strong, says Scott Elkin, owner of Quality Saw & Seal. His company provides concrete diamond grinding and grooving services from its headquarters in Bridgeview, Illinois.
"I believe the pavement preservation techniques we provide with grinding and grooving will become increasingly used in the future," he says.
"Business has steadily increased every year for the past six to eight years," he says. And the market in his home turf of Illinois is good, primarily because the Illinois Tollway System is being rebuilt in concrete.
Corrective work
In addition to new highway work, for grinders and groovers, there's also corrective work—in the grinding of newly paved concrete pavements—to meet ride specifications.
Travis Brandt, vice president of Pinnacle Grinding & Grooving in Reno, Nevada, says preservation work is strong and in a "steady to increasing" pattern, and he is seeing increased contracts for corrective work.
Brandt attributes this growth to changes in ride quality/smoothness specifications, from the Profilograph Index (PrI) to the International Roughness Index (IRI).
"The specifications are tightening in moving from the old California-style PrI to the laser-mounted IRI, which is much more stringent," he says. "So that is having a huge impact in regards to the DOTs, which seem to be heading toward tighter specifications." All of this has increased his company's corrective work. For example, his hometown of Reno just enforced a new smoothness spec, "so I'm immediately starting to see more work as a result," he says.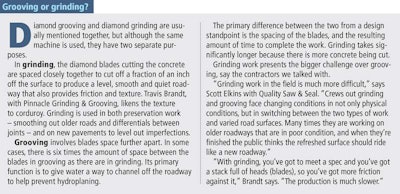 And the DOT officials he works with praise the value that grinding and grooving adds particularly to large projects, according to Brandt. For example, on a recent $150 million U.S. 101 job north of San Francisco, the grinding and grooving portion only came to $500,000. "A $150 million job and it just costs you $500,000,?" Brandt says. "That's pretty minimal. So I think DOT officials are seeing that benefit."
Brandt uses an "older model" Diamond Products machine for his grinding work. "We don't really have a lot of the newer equipment, even though we feel the accuracy has improved with them, and there's only one company that really makes grinders, Diamond Products. For corrective work, which is a lot of the work we do, they have a nice machine."
Diamond Products lineup ranges from the smaller end with its PC1500 application pavement groover and grinder, using 12-inch blades, to the highway-class PC6000EC grinder that uses up to 18-inch blades.
Industry advocacy
"We are making great strides in educating the specifiers as to our services," Elkin says. "I see that continuing well into the future as long as no one in our business becomes complacent."
Both Elkin and Brandt are members of the International Grooving & Grinding Association (IGGA), which works to promote diamond grinding and grooving as well provide technical resources for contractors.
"IGGA helps the owners, agencies and designers to have a better understanding of what our industry can do for them," Elkin says.
"Once we get to the designers or the state DOTs to understand the benefits, we've never gone backwards, it's always trended in the right direction," Brandt adds. "It's just a matter of being able to overcome the political aspect. There have been multiple studies overseen by IGGA through the University of Texas and University of Illinois, where they've specified smoothness in preservation specifically. So it's well-researched."
Brandt also touts the positive impact grinding has on the driving experience for motorists.
"Not only is grinding good for pavement preservation, it's also good for consumers in regard to fuel efficiency, because you're not having that up and down riding motion." He says. "You get the quality of the rideability. The texture of the grinding marks gives you a better coefficient of friction, so you get better traction. It's better for safety and provides a quieter ride."
Environmental challenge
Brandt says a growing challenge for his work in California is the handling of slurry, a byproduct of grinding from the water that's used to keep the blades cool.
"To meet environmental requirements, contractors need to find correct ways to dispose of slurry. Slurry has high pH in it, and a lot of the states are making you dispose of it at a facility," Brandt explains.
Brandt uses a reclamation plant at his yard in Sacramento, California, to handle his slurry.
"It's basically a couple of centrifuges. You dump it in and it separates heavies from the water, and then the water is reclaimed and reused." The firm also has a gravity-fed system that Brandt designed, one that's he currently looking to create on a larger scale.
Worker challenges
It's difficult for grinding and grooving contractors to find good personnel because the work is so specialized.
"Excavator operators are more prevalent than those who can operate our machines," Brandt says.
He uses gradual cross training to get new crew members up to speed. "We usually hire an operator to run the tanker that accompanies the grinder. That way it gives him some exposure to it. Then we can work him in and get a couple of hours here and there where the operator can actually watch the grinder, and then maybe switch him and pull up the tanker to switch out the guys."
And since the workload is good at the current time, "once we train them to become operators we don't really need to incentivize them because they're getting an excessive amount of overtime," Brandt says.
Elkin says there are plenty of opportunities for jobs in the grinding and grooving segment, but the work is challenging.
"As our existing current older generation is in the midst of starting to retire it has become a huge task to find new young employees to want to work like this for a living," he says.