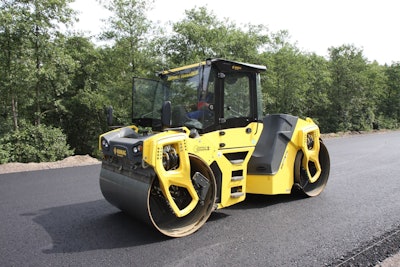 Bomag's new BW206AD-5 tandem vibratory roller features a larger drum diameter than has been available on 84.1-inch drum models, a design change the company says will provide a smoother finish. The company introduced the machine at the 2016 World of Asphalt in Nashville.
The 55.1-inch diameter drum, Bomag says, allows more impact surface area to make contact with the asphalt.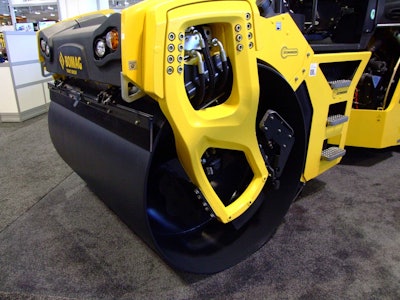 "Due to the height of the drum, the fact that we have a taller drum than we've had in the past you've got less rolling resistance," says Dave Dennison marketing services and product manager. "By hitting that mat with a bigger circle, a bigger diameter, you're not pushing as much material because you're more on top of the material, and that is going to give us a smoother mat."
The BW206AD-5's design allows for a greater distance between the drums, while at the same time shortening the overall length compared to its predecessor perimeter frame design. The engine compartment has been brought up from beneath the operator's platform, which also help decrease the height of the machine.
The new design also boosts curb clearance by 66 percent to make the machine more flexible around obstructions, and its crab walk steering mode can offset the two drums by up to 6.7 inches to the left or right.
Vibration frequencies and amplitudes can be reached in two modes, with a low frequency and amplitude of 3,000 vpm and 0.031 inches for a 39,116-pound max compaction output. The machine's high frequency of 4,200 vpm provides more impacts per inch at high speeds than the company's previous model at this size, another key element to improving asphalt smoothness.
Other features include Ecomode that provides a horsepower increase of 8 percent and 30 percent lower fuel consumption in its 140 hp Tier 4 engine, the optional Economizer intelligent compaction system, and a more spacious operator platform with sliding, rotating and tilting seat.