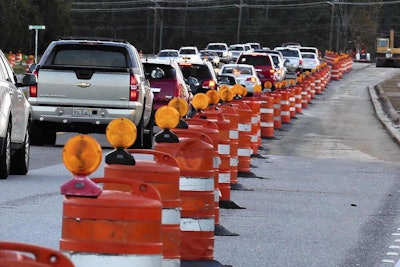 A 21-year-old road worker was killed earlier this month and his coworker was seriously injured after an alleged drunk driver crashed into a Texas construction zone.
Christian Castro was at work in the construction zone on Bonham Street in Paris, Texas, with his coworker when 26-year-old Geno Allen veered off the side of the road and struck the two workers.
Allen allegedly kept driving after hitting the two workers and drove nearly a block with Castro still on the hood of his car until he struck a telephone pole.
A witness called for help just after the accident, but Casto was pronounced dead at the scene. His coworker, Aaron Cirrola, was sent to the hospital for head trauma and a leg injury.
"There was another one on the corner that got his leg almost cut off, and a police officer, which was the first officer on scene, took his gun belt off and dropped it, and he pulled his other belt off for a tourniquet," witness Ron Dickson said.
Allen was arrested and charged with Intoxication Manslaughter with a Motor Vehicle and Intoxication Assault with a Motor Vehicle.