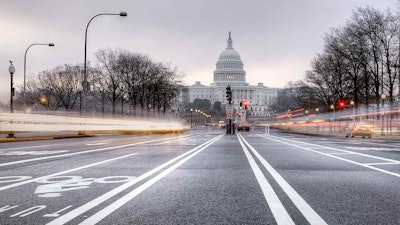 The American Public Works Association is ready for the House of Representatives to pass a long-term transportation bill, and the organization isn't alone.
The APWA announced in a press release it has joined with another 82 organizations from different sectors of the U.S. economy to urge lawmakers to finally act on transportation after 34 short-term patches.
Congress recently came back into session after a summer recess, and transportation is on the agenda. The Highway Trust Fund officially expires in October, but it's got enough funding to last until next June. It was extended with a short-term patch back in July, but lawmakers on both sides of the aisle have been calling for something more long-term like the Senate's bipartisan six-year DRIVE Act, which the House has yet to vote on.
"APWA represents the men and women who work every day to plan, operate and maintain our nation's roadways and infrastructure," APWA President Brian Usher said. "APWA joins these 82 organizations in urging the House of Representatives to end the cycle of uncertainty by advocating and voting for a six-year surface transportation program reauthorization bill during 2015.
"The temporary program of extensions and recurring Highway Trust Fund revenue crises do not provide a path for future economic growth, jobs and increased competitiveness. Further, a multi-year, multi-modal surface transportation authorization maintains a strong federal role and provides dedicated, reliable and equitable funding to both states and local governments for building, maintaining and operating state and local infrastructure systems."
The organizations who have joined with the APWA include groups that represent manufacturers, engineers, contractors, labor, local governments and the construction industry.