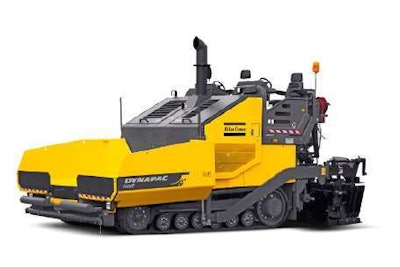 Atlas Copco has a new 10-foot highway class paver with a wide range of new features to make for easier handling and increased productivity.
The new Dynapac F800T tracked paver has dual, swing-out operator platforms for an unobstructed view from the side of the paver. Adding to the improved operator experience are the updated and more ergonomic controls which group switches by their purpose and frequency.
Under the hood, the Dynapac F800T features a six-cylinder Tier 4 Final Cummins that Atlas Copco says will need less maintenance than its four-cylinder counterparts.
Atlas Copco also gave the new paver the Dynapac feed control system to eliminate material segregation and keep the material flow uniform with four ultrasonic sensors and the thinnest center chain box auger system on the paver market. The augers also have 17-inch diameter flights to get rid of centerline segregation.
The Dynapac F800T also comes with the Carlson EZIV08-15 front-mounted electrical screed that gives the operator 8 to 10 feet of working width and a 1-inch mat. The screed has a 34-kilowatt, hydraulically driven generator that heats it without sticking and keeps the frequency control at 60 hertz no matter what the load or speed of the engine is.