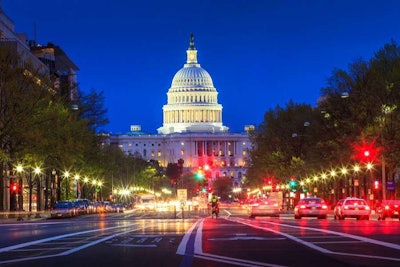 Democrats in the U.S. Senate dropped an ultimatum on Republicans Tuesday, threatening to block any short-term extension of highway funding in favor of a long-term solution.
The Hill reported Democrats are giving the GOP 45 days to agree on a long-term fix instead of another short-term patch—which would be the 34th short-term extension since 2008.
"We do not want a 34th short-term extension of this bill—this program," Senate Democratic Leader Harry Reid (Nev.) said. "We need Republicans to sit down with us, sit down together—don't do it on their own. We don't want to do it on our own, we want to sit down with them and negotiate the solution."
Sen. Charles Schumer (D-New York) added Democrats are asking Republicans to meet the timetable, and if they don't, "it will be very hard" to do another short-term patch. In a letter sent to Republicans, Senate Democrats said legislative hearings on a long-term bill should begin next week, a markup should ready by the first week of July and a bill should be on the floor by the middle of July.
Congress passed a patch on May 29 extending the Highway Trust Fund until the end of June. However, lawmakers on both sides of the aisle have been consistently calling for a long-term solution to transportation funding.
President Barack Obama and Department of Transportation Secretary Anthony Foxx have been touting the administration's Grow America Act, which would tax overseas profits to generate funding for infrastructure on top of the federal gas tax. Meanwhile, the Republican-led House of Representatives passed a bill to fund transportation and housing June 9. However, Democrats and some Republicans didn't think the bill provided enough funding—it sent about $1.5 billion more to transportation but still $9.7 billion less than the Grow America Act.
American Road and Transportation Builders COO Bill Toohey called for a long-term solution at a news conference with Senators on Tuesday. Toohey made a point to say that the issue should be drawn down party lines.
"It's a truism that has been said many times before: we do not have a Republican road network," Toohey said. "We do not have a Democratic road network. We have an American road network, an American bridge network and an American transit network.
"And if one thing has been learned over the past decade, it's that neither political party has had the will to enact a long-term funding solution when they had the numbers and opportunity to do it. It is going to take bipartisan cooperation, a bipartisan solution and bipartisan political risk to get the job done. … It's time for both parties to work together for America and put this behind us."
Toohey added that even a four- or six-year patch isn't enough to give confidence to those in the transportation industry. He said the industry needs lawmakers in Washington, D.C., to come up with "a sustainable funding solution to put this critical national program back on solid footing for the next decade."