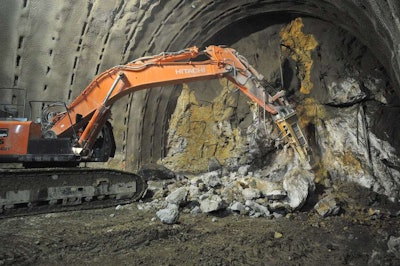 Tunnel boring machines such as Big Bertha, the 7,000-ton machine sidelined after a massive fail under the streets of Seattle, shouldn't always be considered the most efficient option for creating big dig projects, says a new publication produced by Italian hammer manufacturer Indeco and released at the Intermat construction equipment trade show this week.
The 78-page book, "Focus on Tunnels: excavation with hydraulic breakers. A guide to methods, tools and advantages," highlights how hydraulic breakers can be used even when excavating complex tunnels, and should be on the list of options when owners consider ways to tunnel.
Indeco draws on 40 years of tunneling experience, particularly in the challenging environment of Italy, which has two major mountain ranges with entirely different rock compositions. "We realized the experience we've gained working here in Italy alongside a variety of excavation firms should be a great treasure for demolition operators around the world," says Michele Vitulano, Indeco marketing manager.
On March 31, crews lifted Big Bertha's cutterhead and body shield panels to the surface through a 12-story pit for repairs. The machine, the world's largest such TBM, is nearly two years behind schedule in digging Seattle's new State Route 99 tunnel due to a long list of setbacks. Bertha went down only one-tenth of the way through digging the 1.7-mile tunnel which will carry a double-deck highway and replace the viaduct.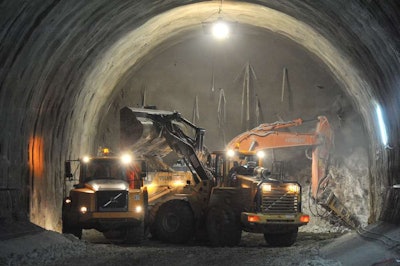 The Indeco book's editor was more blunt during a press conference at the Paris show. "Politicians and the media love TBMs (tunnel boring machines); they are sexy," says Lucio Garofalo. "But it's difficult to establish their cost and effectiveness. It's an inflexible way of excavating a tunnel," he says, calling the Big Bertha project a, "real disaster. They could have easily done it with traditional methods."
TBMs are especially problematic when a tunnel is an unusual size, in an unusual position, involves a challenging curve radius or presents logistical challenges Indeco says.
Indeco says the tunneling book will be the first in a series of publications; possible subsequent subjects include trenching, and primary and secondary demolition in quarries and mines.
The tunneling book is available free of charge in English from the Indeco site at www.indeco.it. In addition to the print publication, the company says it will add multimedia content on a regular basis.