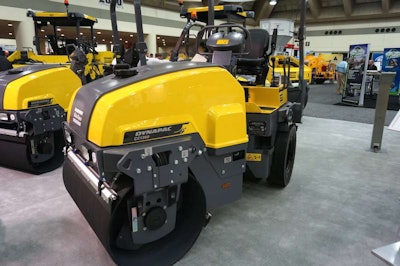 [imagebrowser id=215]
Atlas Copco featured its small, articulated compact tandem rollers at World of Concrete in Baltimore this week, and used the show to introduce the Dynapac CC1300 model.
Like the CC1100 and CC1200, this new model comes in a dual-steel vibratory drum configuration (front and back), or a combination option of one vibratory drum and four rubber tires.
In addition to being used for asphalt compaction, the 45-horsepower CC1300 can also be used for compacting sub-bases and base courses.
The rollers for all three models feature water tanks made of corrosion resistant recyclable polyethylene plastic. They also have three separate filters to prevent clogging in the sprinkler nozzles, and the sprinkler system can be drained without the use of special tools. Operators can compact materials close to high curbs because of the high clearance of the drum's edges.
On the combination models, the rubber tires are driven in pairs by separate drive motors, a feature the company said cuts down on marring during sharp turns on fresh asphalt.
As with other new Atlas Copco equipment, all three models offer a sideways sliding seat and dual front and reverse controls.