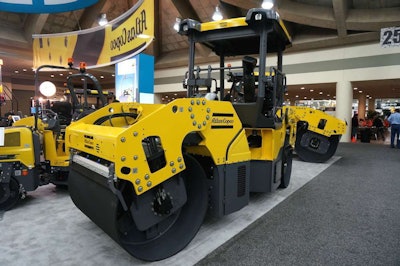 [imagebrowser id=213]
Atlas Copco showcased its new Dynapac CC rollers at World of Asphalt in Baltimore that feature improved operator visibility design, open engine compartment design for easier maintenance, and new intelligent compaction system.
The line ranges from the new CC2200, seen in the gallery above, to the CC6200. Both the CC2200 and the CC6200 were on display at the show.
All models are powered by Tier 4 interim engines.
The CC models can be serviced easier, with rear-positioned engines that are highly accessible via large hoods provding plenty of clearance to inspect and replace parts. The rear placement of the engine also reduces the amount of heat and noise for the operator. The LCD monitor also now displays details on servicing needs, cutting down on inspection time.
One key design feature that is becoming a hallmark of the Dynapac line is improved visibility. The CC rollers have a sliding and rotating operator seat that gives a better view on either side as well as during both rear and forward operation.