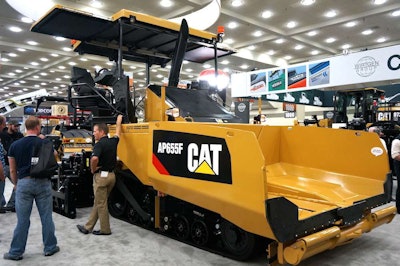 At the World of Asphalt show in Baltimore today, Caterpillar introduced two new pavers equipped with its quick-heating screed system that cuts heating times by more than half.
New screed platforms are available for the pavers including the vibratory only SE50 V and SE60 V as well as the SE50 VT which offers vibration and tamper bars. The SE50 V offers a maximum paving range of 21.3 feet, while the SE50 VT offers 26.3 feet and the SE60 V 25 ft.
Cat says the engine, a now-standard Eco mode and an integrated generator in the machines' new screed heating system combine for substantial fuel savings over previous pavers of the same size.
Introduced last year with the AP1000F paver, the generator is connected directly to the machines' engine and, in combination with the heat distribution of the SE50 and SE60, heats to the appropriate temperature in only 15 minutes, down from 30 to 45 minutes.
Plus, while heating, the pavers run at 1,300 RPM rather than the 2,200 RPM Cat says competing machines run at. Beyond fuel economy, the lower RPM means a quieter jobsite and therefore allows earlier start times in residential areas.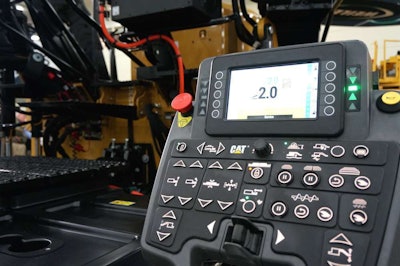 The pavers are equipped with touchscreen control displays, though the most frequently used functions are still controlled by switches. Control features include:
A new single-switch auto-fill feeder system.
Set ratio control for the conveyors from the screed.
Tractor operator can now adjust mix height.
Available new pendant control enables the screed operator to stand alongside the machine.
Propel and feeder system settings transfer between stations with the touch of a single switch. Speed, as well as operation and travel modes, are automatically adjusted at both stations.
Cat Grade Control now can be operated from the tractor consoles if desired.
A warm-up/cleanout mode runs the feeder system at a reduced speed, enabling the operator to more efficiently perform wash-down duties.