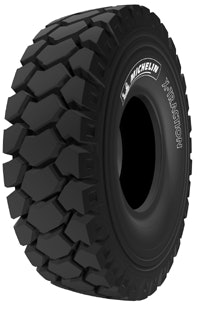 GREENVILLE, S.C., (Nov. 1, 2010) – Michelin Earthmover Tires has introduced additional sizes to its popular XHA™2 loader tire that debuted in 2009, as well as an additional size of the new Michelin® X-TRACTIONTM tire for earthmover transport equipment. The new XHA2 loader tire sizes, 29.5R25 and 20.5R25, join the existing 23.5R25 and 26.5R25 sizes. For the X-TRACTION tire, the new size, 24.00R35, joins the 27.00R49 size introduced in July 2010, with additional sizes, 21.00R33 and 18.00R33, available in 2011.
"The XHA2 tire has already become the workhorse tire for a number of industries and applications since its introduction early last year," said Roger Lucas, vice president of sales and marketing, Michelin Earthmover Tires. "With these additional sizes, even more equipment in quarries and on work sites for construction, government projects, public works and utility work will now be able to benefit from the many advantages that the XHA2 tire offers."
The XHA2 tire is designed to accomplish three goals—reduce hourly operating costs, ensure that work continues smoothly and safely, and improve operator working conditions. A testimonial video of XHA2 tire users is available on the Michelin website. The testimonials, from sites across Europe and the U.S., outline each customer's experience with the new tire.
The new 24.00R35 size of the Michelin X-TRACTION tire incorporates an additional sidewall protection band compared to the larger 49-inch size. The X-TRACTION tire line was originally available in 2004 outside North America for large mining trucks, and is now available in North America for 100-ton mining and quarry trucks using the 49-inch E4 size, and for smaller rigid dump trucks with the 24.00R35 size and the soon-to-come 33-inch sizes. The smaller rigid dump trucks operate in quarries, construction jobs, as well as on public works sites.
Rigid frame dump trucks face application challenges that require significant tread life and traction levels, as well as sidewall and tread area damage resistance. To help cope with the demands rigid frame trucks face, Michelin has integrated two new technologies into the new generation of X-TRACTION tires. The first feature is the new Cooling System shoulder design and the second is the C2 Technology casing architecture. Together, these innovations reduce heat build-up, thereby enabling trucks to operate continuously at higher speeds.
Dedicated to the improvement of sustainable mobility, Michelin designs, manufactures and sells tires for every type of vehicle, including airplanes, automobiles, bicycles, earthmovers, farm equipment, heavy-duty trucks, motorcycles and the space shuttle. The company also publishes travel guides, hotel and restaurant guides, maps and road atlases. Headquartered in Greenville, S.C., Michelin North America (https://www.michelinearthmover.com/) employs 20,900 and operates 18 major manufacturing plants in 16 locations.