Best of the Best
The year 2010 will be remembered, fondly we anticipate, as a year of transition for the road building industry. This is represented in the range of new equipment that rolled into the marketplace and across the pages of Better Roads and www.betterroads.com over the past year – gear that will both serve contractors and agencies well in the immediate future and position them for an onslaught of expanded product introductions and job opportunities to come in the next few years.
Upon reflection of the year that was, of the hundreds of product introductions reviewed and processed by executive editor Tina Grady Barbaccia and others on the Better Roads editorial staff, 15 caught our eye for their industry significance, their ingenuity, their filling of a market need and/or their just plain ol' coolness. Keeping the list to 15 – and a unique 15 – is admittedly difficult. It means, for instance, removing tremendous new products that, while key to the construction industry overall, may not necessarily be germane to the road sector.
While today we proudly toast these products and the deserving companies that create, design, manufacture and market them, moving forward we'd like to know how you have been, are or will be, able to use this equipment to complete jobs safer, quicker and more cost-efficiently. Any and all feedback is not only welcome, but encouraged. Please drop us an e-mail at mike.anderson@rrpub.com or give us a shout at (205) 248-1310.
We likewise are trying to look ahead to an exciting time to come (see American Iron, page 38). In the meantime, let's celebrate some of the great product developments that are leading us there.
In the pages to follow, we respectfully present our 2010 Top Rollouts.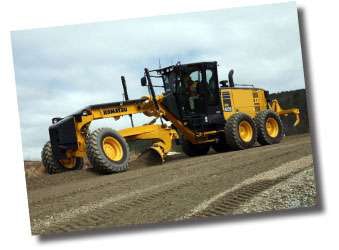 Taking on the big boys
In the words of Steve Moore, there's "a sweet spot" for production-class motor graders. And, by increasing engine output and weight, Komatsu is hitting that spot with the newest edition of the GD655 model, says the Komatsu America product manager. "In short, we have made it a much more competitive motor grader in the most popular motor grader class in North America." Compared to the predecessor Dash-3 model, the new GD655-5 offers 18 additional net maximum horsepower to a total of 218 and, when in standard configuration, about 3,000 more pounds to an operating weight of 35,351. The result of those 9- and 8-percent increases, respectively, is the GD655-5 has "improved its class position" against machines up to 230 horsepower, from previously having to compete from a position at the lower end of the "production class," the starting line for which Moore defines as being 200 horsepower. "You can blade a lot of roads with 160 horsepower and 32,000 pounds," he says, "but if you want to go more into production, you've got to get to this level. What we're saying is that this motor grader is now capable of producing at the higher end of the class." For more information, visit www.komatsuamerica.com/graders-GD655-5.
Guardrail striping made EZ
Once again, as road agencies and contractors balance project safety touch-up needs with the ability to squeeze the most out of available funds, catching attention is an ancillary product positioned for quick, thorough job completion. The new "Jersey" barrier and guardrail paint striping system from EZ-Liner Industries, Ultra Guard, provides a continuous reflective stripe applied directly to existing barriers or guard rails for increased safety on dangerous curves, at entrance and exit ramps, in low-light areas and at work zones. Used in conjunction with Diamond Vogel's formulated horizontally applied paint and beads, the system is designed to dramatically reduce nighttime accidents, says EZ-Liner. Features include adjustable line widths, a smooth roller system, and parts common to other traffic paint stripers. The system is reversible for bi-directional painting. The paint and bead guns are fed by any of the high-volume, walk-behind, self-propelled, pallet-mounted or truck-mounted striper systems offered by EZ-Liner. For more information, visit www.ezliner.com/ultraguard/ultragurad-main.html.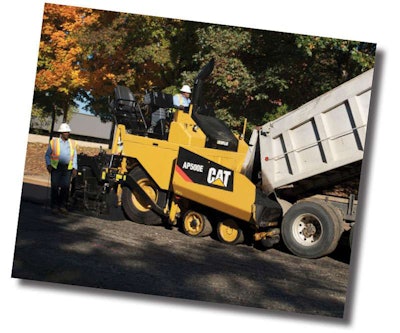 Pavers boast big-machine features
With the World of Asphalt 2010 introduction of the 8-foot-class AP500E wheeled and AP555E tracked asphalt pavers, Caterpillar has brought larger-paver technology and features to the commercial paving market. The material-handling system on the new Caterpillar pavers uses four individual pumps that enable each conveyor and auger to deliver the exact amount of mix to the screed. The left and right conveyors and left and right augers are controlled independently, ensuring mix demand is met when shifting paving widths. The ability to control these four components separately eliminates the need for feeder gates. The Advisor Monitoring System display provides access to a start-up checklist, operator preferences, and engine and machine operating parameters, as well as the Paving Calculator and the Paving by the Numbers programs. When equipped with the AS2252C screed, the Caterpillar AP500E and AP555E asphalt pavers operate at 33,715 and 35,290 pounds, respectively. For more information, visit www.cat.com/equipment/paving-equipment.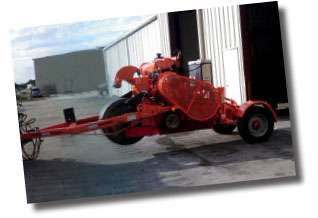 Grinding out a market niche
Capable of grinding shoulder and centerline rumble strips, Thomas Grinding's towable TR-2000-SC can be a versatile, cost-effective addition to the equipment fleet of any road building contractor aiming to keep a lid on project finish tasks, according to the manufacturer. The TR-2000-SC "high-production" rumble strip machine allows road-builders to complete increasingly popular rumble strip requirements, instead of contracting out the work. The ability to churn at up to 130 feet per minute or 1.5 miles per hour (production rate is affected by the hardness of the surface) suits the new Thomas Grinding rumble strip machine for larger projects. A skip option is available, and the machine easily detaches from the tow vehicle. For more information, visit www.thomasgrinding.com/tr2000/.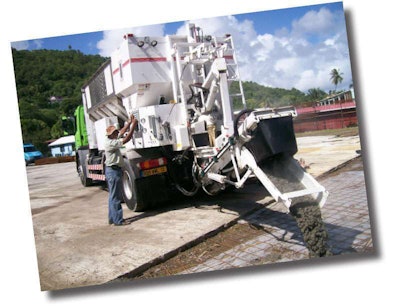 Concrete on the fly
As part of the growing Cemen Tech offering of mobile and stationary concrete dispensers, the new MCD10-150 mobile model produces 60 cubic yards of high-strength concrete per hour. The volumetric mixer carries the materials necessary for concrete production in separate bins, and those materials are measured out at the jobsite where the concrete is produced in the machine's exclusive pump master mix auger. Mix designs can also be changed per specifications with a simple, fast resetting of the aggregate bin gates. A polycarbonate window allows on-site staff to monitor the level of cement, and a resettable counter shows the exact amount of concrete produced, providing an accurate tracking of sales. For more information, visit www.cementech.com/dev/index.php?option=com_k2&view=item&layout=item&id=22&Itemid=29.
Winter workability
With its ability to self-heal via expansion and contraction through freeze-thaw cycles, the duraPATCH liquid asphalt cold patch material from Tri-Products has been formulated for workability during winter months. Available in bulk quantities or shipped in 50-pound bags, the specially-designed asphalt formula's coating and adhesion properties allow for application in wet or dry conditions. The asphalt formulation has been tested to meet ASTM Standards, in order to maintain the qualities needed for optimal performance including withstanding the stress and strain of traffic abuse. For more information on the manufacturer, visit www.hudsoncompanies.com/hag/triproducts.asp.
Smoothing bridge design
As the designed-in safety of bridges across the United States elicits public scrutiny, software programs increasingly provide the answers. The newest version of the plane-frame (2D) Bridge Designer II program from Interactive Design Systems was conceived specifically to provide a time simulation of construction stages for concrete pre/post-tensioned structures, using basic matrix structural analysis formulation combined with time-dependent material properties. The advanced design and analysis provided by the BD2 v4 software enables engineers to design a complete bridge model for concrete segmental bridges built in cantilever or span by span, as well as for concrete cable-stayed bridges and composite structures. During the process, all stress conditions are checked at every construction step, as well as in service. The BD2 Assistant Wizard enables the user to take advantage of the program's high level of embedded intelligence to quickly populate the project database with a parametric bridge model. The user can subsequently modify the model if needed to meet design-specific requirements. For more information, visit www.ids-soft.com/solutions/products/2danalysis.html.
North-American-only pavers
For this country's asphalt paving sector, the year opened with a newly-focused mainline paver to consider. With an official unveiling a few months later at World of Asphalt 2010, Dynapac kicked off the year by introducing its new line of highway-class asphalt pavers designed specifically for the North American market. Production of the 10-foot-class F1000T paver began the first of January, followed in the spring by the sister F1000W wheeled unit. New product features include a high-performance outboard auger drive and a conveyor design that eliminates center-line segregation. Operator jobsite vision is improved with dual swing-out operation stations, a flat operator's area, and a clear view of both the auger and asphalt, as reported by Kerry Clines, senior editor of sister publication Aggregates Manager, who attended a sneak peak at Dynapac's Garland, Texas, facility. Simple to operate and grouped for convenience, machine controls including a single lever for forward and reverse are supported by a multi-function display. According to Dynapac, no daily maintenance or lubrication is required for the new asphalt pavers. For more information, visit www.dynapac.com/en/products/?cat=18.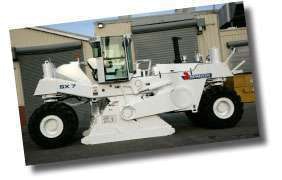 Fresh look for stabilizer/reclaimer
When is a new product not exactly a new product? Well, when a leading equipment manufacturer rolls up its proverbial sleeves and significantly transforms a product it had only recently launched, that product is certainly worthy of consideration as a new market player. Roadtec has done exactly that with its 700-horsepower soil stabilizer/reclaimer, the SX-7, resulting in a very different-looking machine compared to the initial 2007 prototype. The changes in the body of the machine, with a redesigned front and rear, are mostly related to maximizing visibility. The optional cab can slide right or left, past the frame of the machine. With the SX-7, water and emulsion are handled by one system. Any single nozzle or set of nozzles in the spray bar can be turned off individually to precisely control how much liquid material is put down. The new Roadnet central control and diagnostic system provides operator feedback on virtually every function of the machine, supported by troubleshooting screens for all systems accessed with the touch of a button. Capable of a cut 102 inches wide, the Roadtec SX-7 is sized ideally for three-pass processing of a 24-foot roadway. Roadtec's zero-turn-radius steering mode maximizes machine maneuverability. For more information, visit http://www.roadtec.com/www/docs/103/soil-stabilizer-reclaimer/.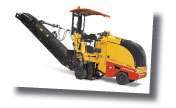 Compact planers work BIG
Working compact milling machines doesn't have to mean giving up performance and operating efficiencies. So says Dynapac, which introduced a new generation of 20-inch (500-millimeter) cold planers at the World of Asphalt 2010 Show and Conference. At 110 and 130 horsepower, the three- and four-wheeled PL500T and PL500TD cold planers leverage increased output from their Cummins QSB 4.5-diesel engines for improved performance with maximum cutting depths of 6.3 and 7.9 inches, respectively. Dynapac's hydraulically-operated front moldboard on the cutter housing cuts down on the accumulation of milled material and, thus, the amount of labor time required at the end of a cut. Special drums for demarcation work and fine-spaced cutting drums are easy to change. Smaller drums with an adapted scraper blade, a side cutting wheel, a loading conveyor and the Dynapac-designed parallelogram front axle are additionally available as options on the new compact cold planers, which feature a vibration-reduced operator's platform with repositioned controls. For more information, visit www.dynapac.com/en/products/?product=110&cat=50.
Laser-guided borer
In response to what Vermeer describes as the "tedious, labor-intensive and expensive" task of installing or replacing water and sewer lines precisely on-grade, the company has introduced the AXIS GB812 guided boring system. Introduced to a worldwide market at BAUMA 2010 in Germany, the pit-launched trenchless installation method comes with a laser-guided system for accuracy in the trenchless installation of 10- to 14-inch pipe for on-grade water and sewer projects. Suited for manhole-to-manhole installations, AXIS can install up to 350 feet of rigid constructed, as well as fusible and restrained joint product pipe. Spoil is removed from the cutter head via a vacuum excavation system, eliminating the need to manually handle it within the pit. Furthermore, says Vermeer, the guided boring system requires a relatively low amount of thrust/pullback force to efficiently bore compared to other pit-launched trenchless systems. Construction of a structural backstop or shaft within the launch pit is not required. For more information, visit www2.vermeer.com/vermeer/equipment/axis_guided_boring_systems.
Mini ice control systems
Once again, holding to the modern mantra of doing more with less, a new line of ESI Spray Mini Systems from EnviroTech Services is noteworthy for its ability to provide advanced anti-icing and de-icing road treatment for bridges, parking decks, garages and roadways, but in smaller, self-contained units. The systems are similar to the existing systems offered by EnviroTech's ESI Spray division, offering spray coverage of 500 feet in each direction, push-button activation, an automatic low tank level shut-off feature, compatibility with most anti-icing and de-icing products, and spread spectrum radio remote control with line-of-sight of 1,500 feet. As an option, the mini systems can be controlled and monitored through remote Internet access via the secure server, providing notifications for lack of pressure, automatic shutdown and containment area flooding. For more information, visit envirotech.squarespace.com/storage/Mini System brochure.pdf.
Old brand, new tricks
Any day one of the road building industry's grand old equipment brands is given a new platform, it's a good day for the industry. Such was the case at the 2010 American Public Works Association (APWA) trade show in Boston, where VT LeeBoy showcased its new RW-80A road widener. The first in the new product line, the RW-80A will be part of a family of five road widener and commercial paver products from a new VT LeeBoy division carrying the historic Blaw-Knox brand. Through collaboration with Volvo Construction Equipment, whose product line incorporates the former full-size Blaw-Knox pavers, each of the five compact products in VT LeeBoy's new Blaw-Knox Commercial Paving Products Division will carry the Blaw-Knox logo. The new RW-80A will be produced at the LeeBoy manufacturing facility in Lincolnton, N.C., and will be distributed via Volvo dealerships during the first quarter of 2011. The road widener boasts an 80-horsepower diesel engine with a machine weight in excess of 18,000 pounds. Each unit is provided with an 8-foot strike-off group enabling 6-foot strike-off capability at a 45-degree angle for proper material flow. For more information, visit www.lbperformancepaving.com.
Keeping your eyes on the road
Now here's a gadget that really speeds up roadwork preparation . . . and safely, too. FastMeasure Quad, the newest distance measuring device by KTP Enterprises, allows the user to measure four lines at once while driving at highway speeds. Each meter is independently controlled by a key-fob-sized remote control, which holds the count in areas where measuring is to be skipped, allowing the user to watch the road while driving. Tailored for road construction, telecommunications, utility and cable distance measurement, FastMeasure Quad offers a quick solution for estimating or figuring quantities for accounting or billing. Meters, a sensor, remote control unit, instructions and all electrical components are included in the installation kit. For more information, visit www.fast-measure.com/quad.html.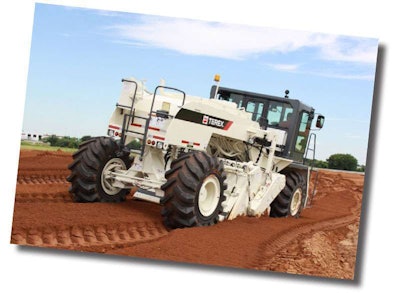 Doing more with less
Offering road builders the ability to do more with less is the approach taken by Terex Roadbuilding designers with the company's newest RS reclaimer/stabilizer model. The RS446C's maximum cutting depth has been increased 25 percent to 20 inches, and a two-stage engine drive and three-speed cutter transmission maximizes breakout forces for production rates of up 155 feet per minute, but the 96-inch-wide cutting performance is delivered via a 415-horsepower engine. The fuel savings, compared to 500-horsepower-class machines, is up to 30 percent, says Terex Roadbuilding. Furthermore, there are reductions in the number of mainframe parts by 52 percent and in the number of raw material types by 81 percent. As part of a new "true rear axle design," kingpins replace spindles at the wheels to allow the tires to pivot closer to the frame, reducing turning radius to 14 feet, or nearly 50-percent less than that of previous models. Four-wheel steering with four steering modes – crab, coordinated, front only and rear only – further make the RS446C less constrictive on the jobsite. A two-speed transmission offers a top travel speed of 8.4 miles per hour. For more information, visit www.terexrb.com/Content.aspx?pgID=413.v