Builds on reputation of quality, durability of V1800 and V2500 models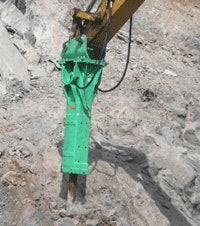 STATESVILLE, NC – October 18, 2010 – Tramac has announced the newest addition to its respected line of heavy breakers: the V4500. Distribution of the V4500 to dealers throughout the United States and Canada is already under way.
"Our customers wanted us to take the next step with our heavy breaker products," said Joe Forth, General Manager of Tramac. "It was specifically engineered to provide a higher energy per blow so that it can outperform other companies' breakers in this category."
The V4500 boasts the same well-engineered, high durability platform found in the V1800 and the V2500, and shares in the unique features of Tramac's heavy breakers such as:
Blank-firing protection to prevent metal on metal contact, extending carrier, breaker and tool lifespan.
Pressure regulator valve to prevent overpressure and accidental overflow.
Reinforced suspension to absorb vibration that leads to premature wear to the boom.
Automatic pressure regulator ensures constant operation despite variations in flow or temperature.
Automatic frequency adaptation system for optimal beat per minute and strike force for the material being worked on.
Increased striking from an energy recovery feature that captures rebound energy and delivers it in the next blow.
Automatic greasing system prevents heat damage with no work stoppage to apply grease.
Basic specifications:
Impact Class
13,000 ft. lb.
Carrier Weight
99,200 – 176,400 lbs

45 – 80 t

Operating Breaker Weight (breaker, tool, and average weight of cap)
9,921 lbs

4,500 kg

Tool Diameter
7.5 in

190 mm

Working Length Of The Tool
29.7 in

754 mm

Operating Pressure
2,683 psi

185 bar

Acceptable Back Pressure
363 psi

25 bar

Striking Rate
500 – 750 bpm
Height (only cradle and tool)
130.3 in

3,310 mm
For more information on the entire line of Tramac products, parts and services, visit www.TramacUS.com.