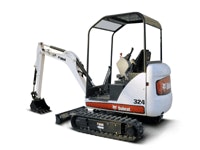 A redesigned work group allows the new Bobcat® 324 compact excavator to reach farther, dig deeper and dump higher.
The 324 excavator is a Conventional Tail Swing unit in the 1.5-ton operating class. Its boom cylinder is attached to the top of the boom instead of the bottom, giving it more protection from damage while digging. It also features a lighter-weight yet durable boom fabrication with cast pivot joints.
As a result, the 324 offers a maximum dig depth of 8 feet 6 inches, reach at ground level of 14 feet, and dump height clearance of 8 feet 8 inches — all of which are best in class.
The undercarriage on the 324 excavator hydraulically retracts to a width of just 38.6 inches for travel through gates and doorways, or alongside homes. It can then expand to 53.7 inches for greater performance. Overall height is just 85.5 inches.
A 13.9-horsepower, Tier 4 water-cooled diesel engine powers the 324, and two travel speed ranges are standard. Equipped with a hydraulic system similar to the larger Bobcat excavators, the 324 has impressive cycle times and breakout forces to complete jobs faster. The system's torque-limiting piston pump is able to sense and react to hydraulic loads, for better utilization of the engine's torque curve.
The standard dozer blade features two self-storing extensions that provide a working width of 54 inches. Auxiliary hydraulics with boom-mounted, flush-face quick couplers make changing attachments easy.
Boom swing on the 324 excavator is 80 degrees to the left and 60 degrees to the right. Bobcat's exclusive in-track swing frame keeps the swing castings and cylinders within the width of the tracks when digging in an offset position, helping the operator dig flush against an obstacle.
A TOPS/ROPS canopy with comfort seat, retractable seat belt, cup holder and armrests is standard. An enclosed cab with heat is optional. Available attachments include grading and trenching buckets, an augur, a hydraulic breaker and a hydraulic clamp.
For the name of the nearest Bobcat dealer, visit www.bobcatdealer.com. For more information on Bobcat compact excavators, visit www.bobcat.com/excavators/.
ABOUT BOBCAT COMPACT EQUIPMENT
Bobcat compact equipment includes skid-steer, all-wheel steer and compact track loaders; compact excavators; mini-track loaders; VersaHandler® telescopic tool carriers; utility vehicles; compact tractors; and Toolcat™ utility work machines. Bobcat is a global brand with more than 600 dealer locations in North America and the leader in compact equipment — the industry's original innovator, beginning more than 50 years ago with the first compact machine and predecessor to the skid-steer loader. For more information on Bobcat products, visit www.bobcat.com
QuickLook: 324 compact excavator
New cylinder-over-boom design protects boom cylinder from damage.
Undercarriage hydraulically retracts to permit access through narrow gates and doorways.
Hydraulic system senses and reacts to hydraulic loads for better utilization of engine torque.
Two-speed travel is standard.
Standard dozer blade features two self-storing extensions.
Auxiliary hydraulics feature boom-mounted, flush-face quick couplers.
Exclusive in-track swing frame keeps swing castings and cylinder within track width.
Enclosed cab with heat is optional.
Operating weight is 3,428 pounds.
Tail swing over the side is 15.3 inches.
Arm breakout force is 1,778 lbf. and bucket breakout force is 3,620 lbf.