New Power Equipment, Materials, and Supplies for the Road Market
By Tina Grady Barbaccia
Bobcat compact loaders go big
At a weight of 12,678 pounds with a rated operating capacity of 3,325 pounds, the new T870 is the largest-ever compact track loader model from Bobcat Company. It is being introduced alongside the S850 skid steer, which at 10,080 pounds with a rated operating capacity of 3,875 pounds becomes the largest active model in the renowned Bobcat skid steer product line. The lift height offered by each of the two new compact loaders is, at 144 inches, claimed to be the highest in the industry. As part of Bobcat's ever-growing M-Series of compact equipment, the T870 and S850 feature increased hydraulic performance and larger cabs. — Mike Anderson
Doosan excavator swings within single lane
With anticipated market availability this month, the new Doosan DX235LCR crawler excavator combines "near-zero" tail swing with 33,510 pounds of bucket breakout force and 23,810 pounds of arm breakout force for heaving digging and lifting within a single lane of roadway. Furthermore, using Power Boost, those breakout forces will increase about five percent to claimed industry highs. Powered by a 166-horsepower, six-cylinder, turbocharged Doosan engine, the 24.3-metric-ton excavator offers digging reach of 32 feet 3 inches, digging depth of 21 feet 11 inches and dump height of 26 feet 1 inch. — Mike Anderson

Cold bins that eliminate plugging, bridging problems
Offered in both stationary and portable designs, cold feed bins from Asphalt Drum Mixers (ADM) are manufactured with all-welded painted steel, industrial-strength columns and end bracing. They are equipped with tapered sidewalls and a belt feeder to eliminate plugging and bridging problems. Material flow is further enhanced by a fully adjustable radial gate system with a self-relieving tapered discharge opening. They are available in single-bin and multi-bin configurations.

Short pipe laser fits tight inverts
The GradeLight 3000 — the GL3000 for short — from AGL is the shortest pipe laser available, according to the manufacturer. Its 10.5-inch length makes it ideal for fitting tight inverts and small pipe jacking pits. The GL3000 will self-level over its +40 percent to –10 percent grade range, with a total compensation of +45 percent to –15 percent. The pipe laser will also compensate up to 6 degrees in its cross axis, allowing the user to place the laser in the pipe without worrying about rough leveling the laser. It can be powered by its Li-Ion battery pack, alkaline batteries, or from a 12V DC source which all come standard in the GL3000 packages.

A smooth Caterpillar telehandler with three boom functions
The new Cat TH514 telehandler features a load capacity of 11,000 pounds with a forward reach of 30 feet, 3 inches. With stabilizers in the down position, the machine provides lift height of 45 feet. Load-sensing, flow-sharing hydraulics allow for all three boom functions to be operated simultaneously and proportionally. The system provides smooth control of the boom and work tools for increased accuracy, especially when placing loads in challenging applications, according to Caterpillar. A 101-horsepower Cat C4.4 DITAAC mechanical-control, turbocharged engine is standard and certified to Tier 3 emission regulations.
A drill for all directions
Ditch Witch has released the JT100 All Terrain, an all-terrain directional drill. With 100,000 pounds of pullback and 12,000 foot-pounds of torque, the drill is built for extended-range bores and installations of large-diameter pipe. The machine's 268-horsepower engine delivers more raw power more efficiently to all machine functions, so the installation can be completed faster. In horizontal directional drilling (HDD) applications, rotary bits are driven either by mechanical rotation of the drill string or by a drilling-fluid-powered motor, or "mud motor."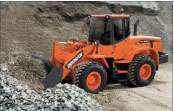 Doosan loader suits public works
Aimed at the "municipal government niche," Doosan's new 2.9-cubic-yard DL220 wheel loader is sized to meet needs ranging from loading sand and gravel to removing snow and storm debris. With an operating weight of 27,205 pounds, the DL220 registers a standard bucket breakout force of 22,928 pounds, full-turn static tipping load of 19,282 pounds and, for truck loading, a dump height of 9 feet 4 inches and dump reach of 3 feet 6 inches. Four forward speeds max out at 23 miles per hour; three reverse speeds top 16 miles per hour. — Mike Anderson

Signal matching during the pile test
Pile Dynamics plans to enhance its flagship instrument, the Pile Driving Analyzer (PDA), with iCAP software. Currently, the Pile Driving Analyzer has calculated capacity at the time of the test solely by the Case Method. A CAPWAP analysis, performed after the conclusion of the test, yields the ultimate bearing capacity. With no user interaction, iCAP will extract the soil behavior from dynamic measurements, compute capacity by signal matching, and produce a simulated static load test graph, all in real time during the pile test.
Dual-pressure, dual-flow air compressor
The new P260WYM / HP220WYM dual-pressure, dual-flow air compressor from Doosan Portable Power operates at either 260 cfm at 100 psi or 220 cfm at 150 psi. A simple control panel switch allows the operator to easily change the pressure setting on the fly. A rugged Yanmar Tier 3 compliant engine powers the unit.