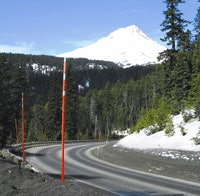 Pexco, a division of Davidson Traffic Control Products, is pleased to announce that, in response to customer requests for higher level of performance, they have re-engineered their Snow Post Model 2549 to produce the post out of the same high-quality engineering thermoplastic as their durable and popular Flexi-Guide FG 400 & 500 Series roadside delineator.
Reduce Damage to Fixed Objects in Plowing Operations
Snow Posts provide advance warning to plow operators of the locations of fixed objects such as guardrails. They safely show them where to plow. The round posts provide highly visible targets from any angle of approach, unlike thin fiberglass strips. Davidson's Snow Posts improves operator safety and reduces replacement costs by effectively guiding snow removal operations.
Recycled Posts Have Long Lasting Value
Davidson's snow posts are more economical than wood, bamboo or plain plastic pipe over their complete life cycle. This post employs an exclusive honeycomb cross-section that provides for great strength but light weight. They are now made from recycled engineering plastic compound that is modified for cold temperature impact resistance. Quality materials combined with sound engineering produces lasting value in the field.
Snow Posts Have Many Applications
Snow Posts are an essential element to all snow removal operations. In addition, the snow posts can be used to accomplish the following:
Mark culverts and drains
Locate junction boxes
Mark fire hydrants
Set snowmobile race courses
Mark cross-country ski trails
Support banners and signs
Secure snow fencing
Delineate lift lines
Key features & benefits of the Davidson Snow Post include the following:
Cold temperature impact strength
Using specialty grades of polymers and additives
Improved Resistance to UV degradation through superior engineering polymers
Manufactured out of recycled thermoplastics: 75 percent recycled content
Additional colors available by special order
To view more about the new Davidson Snow Posts, click here.