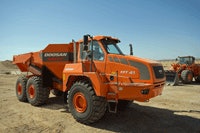 WEST FARGO, N.D., June 2010 — The Doosan Moxy MT41 articulated dump truck offers high horsepower per ton of loaded weight, a free-swinging rear tandem bogie and a special articulation system for outstanding productivity and driving performance.
The MT41 is powered by a 444-horsepower, Tier 3 compliant Scania diesel engine that provides a class-leading power-to-weight ratio of 6.38 horsepower per ton. It has a payload capacity of 82,010 pounds.
The turning ring on the MT41 is located in front of the articulation joint, ensuring equal weight distribution to the front wheels at all times, even in maximum turns. This results in easier steering and less front tire wear. The MT41 also features independent front-wheel suspension for better traction and superior operator comfort.
Permanent 6-wheel drive provides outstanding traction in rough terrain. The free-swinging rear tandem bogie allows the rear wheels to maintain ground contact at all times. Only one differential lock/limited slip differential is required on the rear axles, resulting in less driveline and tire wear.
The sloping body ensures a low center of gravity and excellent weight distribution, further enhancing the stability of the MT41 and providing fast and easy tipping for increased productivity.
A fully automatic transmission provides six forward speeds and three reverse. Top speed is 32.9 mph in high range and 21.1 mph in low range.
Wet disk brakes provide more efficient braking under load, even in very adverse conditions such as deep mud and water. Because they are fully encased in oil, brake discs also last longer, reducing maintenance costs.
The comfortable, air-conditioned cabin features an air suspension seat, low noise and vibration levels and good visibility, thanks to the sloping front hood. The "tip-tronic" gearshift allows the operator to run the truck in both automatic and manual gears for the smoothest possible gear-shifts and momentum.
ABOUT DOOSAN INFRACORE CONSTRUCTION EQUIPMENT AMERICA
Doosan Infracore Construction Equipment America, headquartered in West Fargo, N.D., markets the Doosan brand of products, which includes large excavators, wheel loaders and articulated dump trucks. With more than 100 heavy equipment dealer locations in North America, Doosan is known for an unmatched dedication to service and customer uptime, and durable, reliable products. Doosan is fast becoming a global force in heavy construction equipment. For more information on Doosan products, visit www.doosanequipment.com.