The International Sign Association (ISA) awarded Image Microsystems its Green Product Showcase Award at the association's Annual Expo 2011, recently held in Las Vegas.
ISA honored Image Microsystems for its MicroStrate sign substrate material.
"We are honored to have won this award," stated Alex Abadi, Ph.D., CEO of Image Microsystems. "We've long believed that our MicroStrate sign substrate material is an environmentally friendly and lower-cost alternative to aluminum for use in the sign industry. Now this award presented by the sign industry's leading association confirms our belief in the viability and market acceptance of this product."
Lori Anderson, ISA president and CEO, says that since the Green Product Showcase's inception in 2010, "a number of exciting, environmentally friendly products" have been introduced at the ISA International Sign Expo.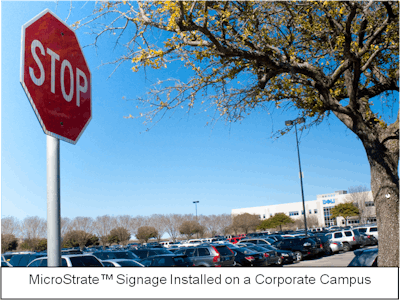 "This year's showcase was no different," Anderson says in a written statement. "Image Microsystems' innovative recycling of computer parts for sign substrates was certainly deserving of the title 'Coolest Green Product.' But the real winners will be those who will use the products introduced at the showcase to better the on-premise sign industry."
Patent-pending MicroStrate sign substrate is said to bew a versatile material made completely of recycled e-waste plastic. Image Microsystems' proprietary manufacturing process combines "dirty" plastic found in spent printer cartridges and computer or printer housings and converts it into resilient, cost-effective, earth-friendly products.
Recent tests conducted by Texas Tech University show that MicroStrate sign substrate is as durable as aluminum, but is much greener, contributing only one-fourth of the carbon footprint, according to Image Microsystems.
Dirty plastic is considered valueless in the recycling supply chain and as a result frequently ends up in landfills, the company says. However, purchasers of signage and markers made from MicroStrate can save money on a product as tough — but not as theft-prone as aluminum — while simultaneously feeling good about contributing to carbon footprint and e-waste reduction."
As a result of these benefits, MicroStrate says its signage has recently been installed on roadways in several municipalities and on large corporate campuses.