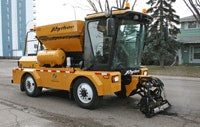 This year at CONEXPO-CON/AGG,Python Manufacturing introduced a revolutionary solution to the never ending job of repairing the potholes on our roads.
The Python 5000 is a one-person operated pothole patcher that can permanently repair the average pothole in about two minutes. It is the only one-person operated pothole patcher that uses all standard hot or cold asphalt mixes. The operator can either fill up at the nearest asphalt plant, or use a cold mix which is readily available and can be stored indefinitely. The operator then drives at highway speeds to the work area where the Python 5000 cleans out the pothole, applies tack oil, fills the hole with asphalt, rakes it and then packs it down to make a long-lasting patch.
Les Hulicsko, Python president and developer of the Python 5000 says, "The patches are of such high quality that they can outlast the pavement around them."
The 5000 operates in all kinds of weather – meaning road repairs can begin earlier in the spring or even continue all winter where there isn't a great deal of snow. Hulicsko points out, "With this machine, you can get a lot more roads in good shape in a lot shorter time." A single operator using the Python 5000 can cover approximately three times as much ground, or fix three times as many potholes as a crew using traditional methods. And if a city were able to prolong the life of the street or highway by using the Python 5000, the savings would be substantial.
Even more important, the operator of a Python 5000 stays safely inside the machine during the entire operation. A crew, on the other hand, is exposed to the traffic, which regularly results in serious injuries and fatalities.
Python Manufacturing Inc. also manufactures a full line of top-quality street sweepers, with more than 40 years of experience in building quality pavement maintenance equipment and innovative farm equipment. The Python 5000 pothole patcher can be seen at CONEXPO-CON/AGG in booth #909 in the Blue Lot.