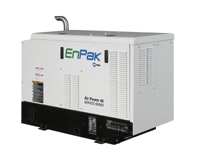 APPLETON, Wis. — March 8, 2011 — Miller Electric Mfg. Co. introduces EnPak® Air Power 40: a truck-integrated, engine-driven air compressor and generator that eliminates the need for hydraulically driven standalone or under-hood compressors, and integrates seamlessly into a truck's electrical and fuel systems. This allows field service personnel to run air and power tools off one unit and with the truck turned off. It lowers fuel costs up to 30 percent, reduces truck engine hours up to 60 percent, lowers truck noise and reduces exhaust fumes in the work area.
EnPak Air Power 40 is designed for service truck operators who regularly use compressed air and generator power but don't need the hydraulic functions first introduced in EnPak Mechanic Series. This makes it more accessible for service trucks that aren't equipped with hydraulic cranes but still require the use of heavy-duty air and power tools, such as impact wrenches, jacks, grinders and welding and cutting equipment. This includes industries such as power generation, public utilities and municipalities, transit authorities, waste disposal and rental equipment facilities.
"My air tools consist of everything from die grinders, air drills, air grinders and 3/8-inch to 1-inch impact wrenches," says Kevin Conner, field service technician, Brandeis Machinery & Supply, "and I notice a significant increase in the volume of air available with EnPak, especially using a 1-inch-drive impact. You no longer have to wait between fasteners for the air to build back up."
Prior to EnPak, field service technicians relied on either a hydraulically driven standalone or under-hood compressor. This required leaving the truck running throughout the day, which added unnecessary drivetrain hours to their service trucks. EnPak Air Power 40 now runs the air compressor and generator with its 27 horsepower Kubota diesel engine, which ties directly into the truck's fuel and electrical systems. Field service technicians now only fill up the truck's diesel tank and can run all critical tools with the truck turned off. Combining these functions in one unit provides the following benefits:
Reduces fuel consumption up to 30 percent.
Lowers maintenance costs: Reduces truck operating hours, which yields lower annual maintenance costs.
Eliminates nonproductive drivetrain hours and extends the useful life of a service truck.
Eliminates the under-hood compressor, which is not transferable from truck to truck.
EnPak Air Power 40 features Miller's Air Pak™ 40 variable-speed rotary screw air compressor that is rated at 40 cfm at 100 psi, with 175 psi maximum pressure. This allows service technicians to use air tools without having to stop and wait for pressure to build. It also features 6,000 watts of generator power for welders and power tools, plus an optional 2,400 watts of pure sine wave EnVerter™ power for accessories such as lights and laptops. The unit is up to 10 dB quieter when compared to running the same tools off the truck's engine, and the work environment is substantially improved as truck exhaust isn't filtering into the work area. EnPak Air Power 40 also features a vertical exhaust to filter fumes up and away from the work area.