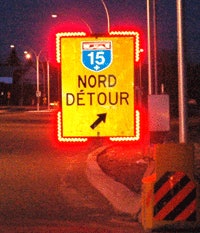 Versilis Inc.;s SwiftSign dynamic signage is comprised of a pivoting sign, a solar panel and a control box. Flashing lights can be added to the traffic sign to increase nighttime visibility and to catch drivers' attention under specific circumstances such as emergency procedures.
The dynamic signage is completely independent of any wiring for ease of installation or relocation and can be activated with an RF unit, cellular phone, or a web-based application.
The system is a great in-between solution to static signs and variable message boards. The activation on demand makes the message only relevant when necessary and at the same time, the system is much more compact and economical than variable message boards. The system can be adapted to host any kind of si
gnage or message board as long as it is reasonable in size and complies with local traffic regulations.
Applications include the following:
Signage for reversible lane
Signage for repetitive lane closure operations
Signage for emergency operations (ex: tunnel incident)
Traffic signage that needs activation at hard to reach or dangerous sites
Variable dynamic road messages (possibility of having 2 or 3 different messages)
Any signage operation that is either repetitive, that needs to be activated quickly on demand or that is not easy to access.