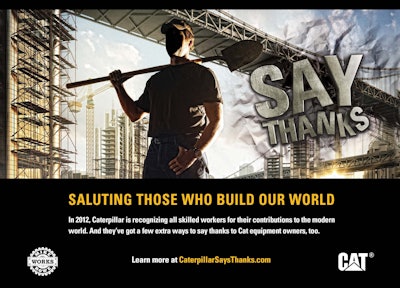 How cool would it be to have someone famous deliver your pizza?
Mike Rowe of "Dirty Jobs" fame delivered pizza to and ate lunch with with the employees of Dudley Construction Inc. of Florence, Ky., on Aug. 2 as part of Caterpillar's "Say Thanks" campaign.
Dudley Construction is the winner of the Pizza Party Contest from Caterpillar, the first giveaway in the Say Thanks campaign, saluting skilled laborers across the United States for their hard work. The contest was eligible to any individual or business that owns Cat equipment.
"Everyone is really excited. It's a pretty big deal," Mike List, Dudley Construction's equipment manager, said in a written statement. "The fact that Mike Rowe is coming, I think it's cool. He's a down and dirty type of guy. You can never have enough pizza, and the icing on the cake is Mike Rowe being here."
List entered the winning entry, which included a picture showing a Cat compactor and bulldozer in the forefront with a bright rainbow in the backdrop snapped this past winter at Gene Snyder Airport in Falmouth, Ky. The equipment was used to stabilize slopes next to the runway after several landslides occurred at the airport.
To be eligible for the Pizza Party Contest, submissions had to include a video, picture or typed story as well as answer the question: What makes your work important to you and your community? All entries were posted online where the public was urged to vote for their favorite. Dudley's story and picture won after receiving more than 10,000 votes. The Say Thanks campaign kicked off this spring and continues the rest of the year.
"It's hard to imagine life without what our customers do. Think about virtually every project that's ever been made and that's no exaggeration," said Caterpillar Inc. Chairman and CEO Doug Oberhelman in a press release. "When I have a Cat customer in my office, I make it a point to look them right in the eye and thank them."
Rowe's participation in the contest is his way to thank "a nation of unsung heroes for taking on jobs that make life possible for the rest of us."
In a written statement distributed by Cat, Rowe says: "There are tradespeople who train extensively and work hard to make our world a better place to live. Let's recognize the folks who make it all possible," said Rowe. "We salute you and thank you for the world you built for us. In 2012, we're going to show you just how appreciated you really are."
My family's weekly Friday evening pizza night certainly isn't as exciting as having Mike Rowe deliver us pizza. Our idea of an exciting pizza night is getting the good, deep dish Chicago Giordano's or Gino's pizza instead of just pizza from our old standby, Papa John's, or one of the local pizza joints. If Mike Rowe showed up to deliver pizza, my construction-obsessed little boys and architect husband would be so excited!