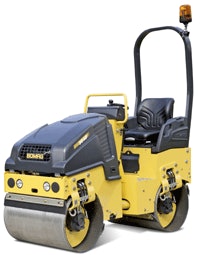 Designed for more efficient operation, BOMAG's new BW90AD-5 tandem vibratory roller features intuitive controls and optimum all-around visibility. Highly maneuverable and fuel-efficient, the roller is an ideal solution for a wide variety of small and medium asphalt compaction projects.
The newly developed driver's platform is highlighted by a multifunctional travel lever and the Smart Drive steering wheel, which has a smaller diameter that provides comfortable space for the operator, as well as a clear view of all controls. The dashboard contains modern circular instrumentation with warning signals, hour meter and fuel level indicator. An adjustable operator seat also provides added comfort and an excellent view of the drums.
The BW90AD-5 is powered by a 20.2-horsepower Kubota diesel engine that features ECOMODE, a system that automatically idles the engine to conserve fuel during inactivity. Offering a working width of 35.4 inches, the roller delivers 3,822 pounds of centrifugal force at a frequency of 4,200 vpm. Additionally, the roller is equipped with BOMAG's Intelligent Vibration Control to achieve consistent compaction quality.
Built with travel motors contained within the vibratory drums, the unit's compact design is well suited for operation in tight spaces, thereby eliminating the need for additional compaction with vibratory plates near obstructions. The BW90D-5 includes a 26.4-gallon water tank and pressurized spray system. The water spray nozzles are windscreen protected and triple filtered to ensure the drums receive sufficient water coverage even in strong winds.
Maintenance is simple, thanks to a durable composite hood that allows easy access to the engine and a steering column that can be quickly opened to view central electronics. A bolt-on articulating and oscillating joint is maintenance free, and each drum includes two flexible scrapers. Front, center and rear lift points help simplify transport and reduce unloading times.
Standard safety features on the BW90AD-5 include a spring-applied, hydraulically released parking brake, ROPS with retractable seat belt, back-up alarm, emergency stop button, and front and rear working lights for night operation. Additionally, the engine hood and instrument panel are lockable to protect against vandalism.
For more information on the BW90AD-5 tandem roller or the complete BOMAG Light Equipment product line, including vibratory tampers, single-direction and reversible vibratory plate compactors, trench compactors, single- and tandem-drum walk behind vibratory rollers, and single- and tandem-drum ride-on vibratory rollers, contact BOMAG Americas, Inc., 2000 Kentville Road, Kewanee, IL 61443, call 309-853-3571, toll-free 800-782-6624, fax 309-852-0350, e-mail info.bomag@bomag.com or visit the BOMAG website at www.gobomag.com/light-equipment.