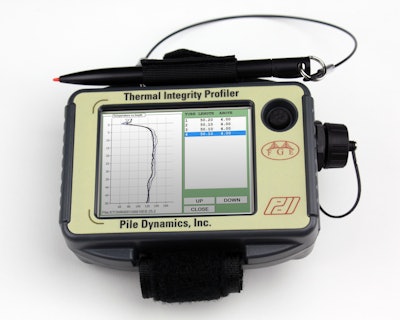 The engineers and researchers who worked on the Thermal Integrity Profiler (TIP) have received the 2013 NOVA Award from the Construction Innovation Forum.
George Piscsalko, P.E., and Dean Cotton, with Pile Dynamics, Inc. (PDI), of Cleveland, and Gray Mullins, PhD, P.E., with the University of South Florida in Tampa, Florida, won the award on November 12 at the annual Construction Users Roundtable (CURT) National Conference in Tucson, Arizona.
The TIP uses heat generated by curing cement to evaluate the integrity of cast-in-place concrete foundations or the shape of concrete structures.
The University of South Florida conducted the initial research for the TIP. PDI formed a joint venture with Foundation and Geotechnical Engineering (FGE), of Plant City, Florida to design and take the instrument to market.
"The TIP is an innovation for the deep foundation testing market. It overcomes many of the limitations associated with other non-destructive testing methods, providing an evaluation of the entire cross-section, something that can't be done with those other methods," said George Piscsalko, Vice-President of Pile Dynamics and one of the award recipients, "The TIP test is completed within typically 12-48 hours after casting the shaft, thus allowing for an accelerated construction schedule. In contrast, other testing methods are not done until typically 5-7 days after casting."
The instrument also won the 2013 C. William Bermingham Award for Innovation in September.