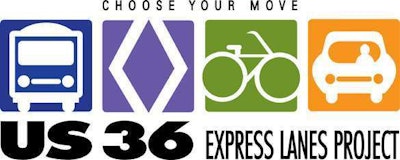 The Colorado Department of Transportation (CDOT) is heading a project on U.S. 36 that will incorporate a high-occupancy fast lane, a bus rapid transit service, an electronic toll system for single-occupant cars and a bike path into one route.
According to a report from the New York Times, Federal Highway Administrator Victor Mendez has said this is the first highway project to combine all of the aforementioned plans.
U.S. 36 opened in 1952 as a toll road and was anticipated to carry 3,000 vehicles daily by 1980. However, more than four times that amount rolled across the road each day, causing more wear and tear than expected. By 2005, TRIP ranked the highway as the No.1 Heartburn Highway in Colorado due to poor maintenance, congestion and accidents.
The U.S. 36 project began last year and is expected to be completed by January 2015.
The Times reported that first phase of the project will cost $312 million, which will be paid for with federal stimulus money, highway funds and state and private money. The second phase will be mostly funded by private investors who will be paid back with a portion of the tolls until 2063.
For more information about the U.S. 36 multi-module project, visit coloradodot.info/projects/US36ExpressLanes.