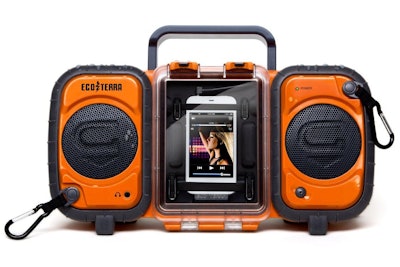 "Bear-proof." That's what Eco Terra's manufacturer, ECOXGEAR, calls the boombox.
Eco Terra is a waterproof, rugged and portable stereo system that plays music from any iPhone and most Android, Windows or Blackberry phones and other mp3 players.
Here's how it works: The phone is placed in an airtight, waterproof compartment, where it streams audio to the boombox using an auxiliary input cord.
Four C cell batteries power the boombox, and they stay charged for 25 hours.
The Eco Terra also features two built-in waterproof speakers, an internal waterproof storage compartment, detachable carabineer clips, a nylon belt that can be used with the clips, an adjustable carrying handle and a waterproof headphone jack. The system also comes with an AC adapter wall charger for charging the batteries.
And… it floats.
For more information, including specs and reviews, or to purchase the Eco Terra, visit ecoxgear.com/ecoterra. $149.99
Off-Road is a new series on BetterRoads.com that features products you might like to use at home or on the jobsite.