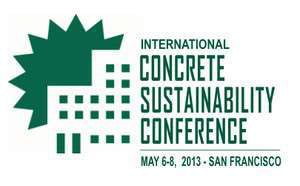 The National Ready Mixed Concrete Association (NRMCA), along with several other sponsors, is hosting the eighth annual International Concrete Sustainability Conference (ICSC) May 6-8 in San Francisco, California.
The conference is aimed at educating researchers, academics, students, engineers, architects, contractors, public works officials, material suppliers and concrete industry professionals on topics like life cycle assessment, low impact development, green concrete, new concrete technology, sustainability initiatives and functional resilience.
This year's ICSC features industry professionals and other expert speakers, including:
Dr. Michael Lepech, PhD, Assistant Professor in the Department of Civil Environmental Engineering at Stanford University
Caspar Wagner, Google Green Team Design and Construction Lead at Google, Inc.
Francesca Desmarais, Director of the 2030 Challenge for Products at Architecture 2030
Dr. Franz-Josef Ulm, PhD, Massachusetts Institute of Technology
Suneel Vanikar, Team Leader of the Pavement and Analysis Team with the Federal Highway Administration (FHWA), United States Department of Transportation
Dr. Dev Millstein, PhD, Postdoctoral Fellow at Lawrence Berkeley National Library
Chris Erickson, CEO of Climate Earth
Jeremy Gregory, Research Scientist at MIT's Materials Systems Laboratory
Josiane Bonneau, Director of Field Programs at Wildlife Habitat Council

For more details, including the ICSC's schedule of events, or to register, visit concretesustainabilityconference.org/sanfrancisco, or scan the QR code to the right to download the free Guidebook app to your smartphone, tablet or other web-enabled device.