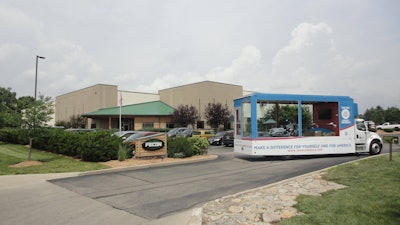 Fecon proudly hosted a stop on the nationwide I Make America Harley Tour. The tour is on behalf of the Association of Equipment Manufacturers (AEM). I Make America has more than 30,000 supporters who advocate pro-manufacturing policies to create more jobs in the U.S. and keep the economy competitive worldwide.
The purpose of the Harley Tour is to raise awareness about I Make America and its mission. Everyone who signs up through October 3 will have a chance to win a 2014 Harley-Davidson Road King, featuring a custom I Make America paint job. You can enter to win by visiting www.IMakeAmerica.com.
"I Make America was created to be a force for positive change in the equipment manufacturing industry," said Dennis Slater, AEM President. "Economic conditions in America remain a challenge and we need our government to partner with us to advance pro-manufacturing policies that address those challenges. I Make America is our platform to spread awareness and maximize our voice in Washington, DC."
According to AEM, about one in six private sectors in the U.S. depend on the manufacturing base.