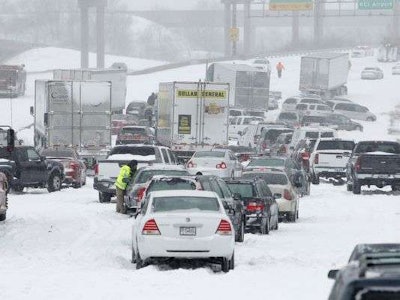 Should snow bosses interpret a 70-percent chance for snow after midnight to mean that crews should be on the road by midnight? Maybe – maybe not. Having conversations with your meteorologists – public or private – will help your department maximize safety to the travelling public while minimizing costs to your community.
Other than the usual or obvious questions, what can you ask to gain the most beneficial decisions for winter storm preparations? Here is a look at some important questions to ask – and not to ask – as well as the benefits.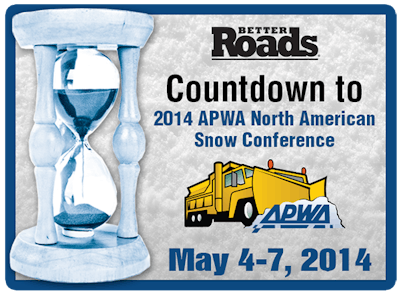 What will the liquid equivalent be and by when?  It's critical to know if and when roads need to be treated and retreated.
What's the pavement temperature structure of this storm? When will the pavement temperatures drop below 32 degrees F, or plummet to 15 degrees F, when salt is not as effective? This is important because knowing which material will be best – i.e. what level of materials – are warranted.
When will there be the highest confidence in this forecast? Sometimes snow bosses need to make decisions based on the time clock for their employees about whether to schedule them to work two 12-hours shifts and send some of the dayshift snowfighters home – usually around mid-morning. However, the midday models, which have the full suite of data variables as opposed to the early morning runs with minimal data from forecasts in the morning and on television based on those models, can't be analyzed much before 11 a.m. without rushing the meteorologists. So know the highest confidence will usually come by noon to 1 p.m., which is why snow bosses get a change in weather just before sending crews home.
The atmospheric model run that comes out midday is much more extensive than the data that is available overnight. Since it has many more parameters, the meteorologists are significantly more confident in the accuracy of their forecast when they get through analyzing all the data. Inconveniently, that can lead to weather forecast changes between noon and the afternoon shifts, which may be later than when snow bosses need to make their shift change decisions. Therefore, if you need a decision before noon Central time, be certain to ask your meteorologist how confident they are in their winter storm prediction and what could change that outcome.
Let the meteorologists know the schedule, ask them the level of confidence and ask when more in-depth data will be available to set expectations and develop the plan. This way, Plan B can be implemented so crews do not go home at their regular time –i.e.  3 p.m. – leaving the motoring public slick roads for evening rush hour.
When is the next storm coming or is this a pattern that will last? Understanding this allows snow bosses to manage their crews' down-time better, which becomes critical in back-to-back storms. If you're going to send crews home or not load your trucks for the morning rush hour winter storm because they've been going straight for so many hours, tell your meteorologist. This way, they will alert or call you with extra lead time in the pre-dawn hours, as they'll know your crews will need more time to get ready before hitting the roads with treatment/plowing or both.
If rain is in the forecast before winter precipitation, will the amount of rain be enough to wash away my pre-treatment? Make sure crews are prepared for this so they know what type of materials to use.
What are snow/ice possibilities during a major event? If there's an upcoming holiday or event such as Thanksgiving, Christmas, or the Super Bowl, ask about the range of possibilities for any snow or ice before get crews are back on Monday for their regular schedule. If drivers leave town on a holiday, you'll be shorthanded on what's likely to be a major travelling weekend.
If you're looking at radar and have a question, be specific.  For example, a St. Louis area public works director called in and asked, "Is this drizzle really going to last long enough to freeze after sundown? It looks clear to the West. Is it developing overhead?" The answer: "No. It's widespread, but since the drizzle and freezing drizzle after sunset are all coming from clouds below 5,000 feet, the radar won't show it very far away from the radar dome."
Will the wind be a factor? If so, when? If the wind doesn't start gusting until the end of the storm and crews are surprised by it, they may find themselves unexpectedly having to fight drifts long after they had expected to be headed home, especially if no crew was planned the next shift.
When the snow seems to be tapering off, is it really over? If so, or if the rest will only accumulate to a small amount – an amount that the treatment will handle – the next crew may be called off, saving that municipality or highway department eight hours of overtime.
This recently happened in Overland Park, Kansas. A public works official kept the crew on duty for an extra hour and called off the crew that was expecting to come in at midnight.  Travelers were safe and taxpayer's budget didn't take an unnecessary extra hit.
How heavy will the snow be when it starts? The idea or conversation is really about when snow will start sticking or when ice/glazing will start.
Will roads deteriorate at the same time as bridges? This could be the difference between a partial or full crew. Also, some large municipalities and highway departments may have a driver or two on a regular night shift just to watch bridges
For example, one Sunday, snow started at 8 a.m., but didn't begin accumulating until 1 p.m. This means five hours of overtime. It's not cost efficient or good use of public works staff to pay them to sit and watch the weather for five hours. Their time needs to be reserved for when they need to be on the roads.
Increasing two-way conversations will decrease the hype, allowing decision-makers to prepare for the right storm.
As first responders, public works professionals are experienced and smart. They just simply need to have conversations to clear the confusion. The more scientists learn about the needs of road crews and the better conversations winter maintenance supervisors have with their meteorologists, the safer the roads will be and at a much lower cost to the taxpayer.
When will the weather event take place? Try to determine start time, end time and type of precipitation. Also note whether the type of precipitation will change during the event, what air and pavement temperatures and winds will do during the weather event and what temperatures will be after the event. This all affects the initial treatment as well as re-treating decisions.
Never ask your meteorological company/forecaster: How does your forecast compare to the National Weather Service? Or Channel 2? Meteorologists spend their time analyzing atmospheric physics for how your community will be impacted. They don't sit around watching four television stations, cable weather and everybody else to see what they say. They are busy doing their job for your specific needs.
About the author: Sara Croke is president of Shawnee, Kan.-based Weather or Not Inc. in Shawnee Mission, Kansas.
Editor's note: To learn more about developing emergency operations, using public works task forces and mutual aid agreements and how to analyze information from forecasters to better anticipate severe weather, go to the "Emergency Management 101 for Winter Maintenance" presentation at the American Public Works Association (APWA) Snow Show from 3:30 p.m. to 5 p.m. on May 5 in Junior Ballroom B at the Duke Energy Convention Center in Cincinnati. In addition to Croke, David L. Bergner, PWLF, of Mesa, Arizona-based Monte Vista Associates, LLC; Ron Ditmars, street maintenance superintendent for the City of Olathe, Kansas; and Mary M. Wilson, procurement specialist for the Town of Herndon, Virginia, will also present during the session.