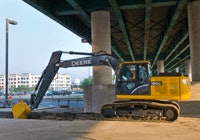 MOLINE, Ill. — John Deere announces today the introduction of the customer-inspired 180G LC hydraulic excavator. This 18 metric ton model provides contractors a larger mid-size excavator solution with an Interim Tier4-certifed (IT4) engine. The new 180G LC joins the popular G-Series hydraulic excavator line and continues the John Deere tradition of reliability, power and productivity on the jobsite.
"The 180G LC model provides small local contractors, water and sewer contractors, and those who dig basements and pools a versatile, maneuverable, and IT4-certified excavator," said Mark Wall, product marketing manager for excavators, John Deere Construction & Forestry. "This 18 ton model offers operators a machine with more reach, digging depth, lift capacity, and arm and bucket dig force."
The 180G LC features a rugged, 121 hp, field-proven IT4/EU Stage IIIB John Deere PowerTech™ diesel engine that meets rigid emissions regulations, enabling operators to work anywhere jobs are available, including non-attainment areas. The new unit employs filed-proven cooled exhaust gas recirculation (EGR) for reducing NOx, and a diesel particulate filter (DPF) and diesel oxidation catalyst (DOC) to reduce particulate matter. Extended engine and hydraulic oil service intervals increase uptime and reduce daily operating costs.
The hydraulically driven, highly efficient fan at the heart of the excavators' cooling system runs only as needed, reducing noise, fuel consumption and operating costs. The cooling system keeps things running cool, even in high-trash environments and high altitude. An automatic or operator-activated reversing option back-blows cooler cores to keep them clean and free of debris.
The 180G LC comes equipped with a Powerwise™ III hydraulic management system that yields pinpoint metering and smooth, low-effort control. The Powerwise III perfectly balances engine performance and hydraulic flow for predictable operation.
Three productivity modes (high-productivity, power, economy) allow an operator to choose the digging style that fits the task at hand. High-productivity delivers more power and faster hydraulic response to move material. Power delivers a balance of power, speed, and fuel economy for normal application and economy reduces top speed and helps save fuel. In addition, a "power boost" button on the right hand control provides extra muscle to drive through tough digging conditions. The Machine Information Center (MIC) captures and stores vital machine performance and utilization data to help improve productivity, uptime and profit.
With a focus on operator comfort, the 180G LC cab features self-cleaning steps and wide entryways. In addition, the cab is spacious and provides extra legroom. Silicone-filled mounts effectively isolate operators from noise and vibration, affording a noticeably quieter cab. Contractors will also appreciate unsurpassed all-around visibility, low-effort joysticks, a highly efficient HVAC system, and numerous other amenities to help with productivity. A sculpted mechanical-suspension high-back seat has 12 1/2 inches of travel, sliding together or independent of the joystick console. For even more support, contractors can opt for the air-suspension heated seat. There is no shortage of storage options either. There's a place for a cooler, cup holders, and a hot/cold box that keeps beverages at just the right temperature.
The cab also includes the multi-language LCD control monitor to simplify navigation. The operator can easily access a wealth of machine information and functionality with a tap and turn of the monitor's rotary control.
Operators have quick access to information such as engine rpm and oil temperature, and they can easily check maintenance intervals, adjust cab temperature, tune the radio and select productivity modes. In addition, short-throw pilot levers provide smooth, predictable fingertip controls with less movement or effort. Pushbuttons in the right lever allow fingertip control of auxiliary hydraulic flow for operating attachments.
Like all John Deere excavators, the 180G LC is loaded with features that make it hassle-free to maintain. Large, easy-to-open service doors and easy-access service points make quick work of the daily routine. Remote-mounted vertical oil and fuel filters and extended engine and hydraulic oil-change intervals minimize maintenance too. In addition, the Machine Information Center (MIC), LCD monitor, and fluid-sample ports help with timely decisions about machine upkeep. Standard boom/frame lights and cab/boom-mounted optional lights provide illumination to extend the workday beyond normal daylight hours. Other traditional John Deere features include tungsten-carbide thermal-coated arm surfaces, oil-impregnated bushings, and welded-boom bulkheads. An optional camera is also available that displays action behind the excavator on the LCD monitor.
For those fleet managers, owners or operators looking to get the most out of their equipment, a standard three-year subscription of JDLink™ continuously collects and transmits machine data for machine management. The system enables timely preventive maintenance and remote diagnostics, as well as the coordination of machines working on multiple jobsites to get the right machine to the right place at the right time.
The 180G LC is available with a variety of track widths, arm lengths, buckets and other options.
About Deere & Company
Deere & Company (NYSE: DE) is a world leader in providing advanced products and services and is committed to the success of customers whose work is linked to the land – those who cultivate, harvest, transform, enrich and build upon the land to meet the world's dramatically increasing need for food, fuel, shelter and infrastructure. Since 1837, John Deere has delivered innovative products of superior quality built on a tradition of integrity. For more information, visit John Deere at www.JohnDeere.com.