Winter Maintenance
Clear that lane with enhanced deicer
ClearLane enhanced deicer is a pre-wet salt product produced by Cargill Deicing Technology that the company says is more effective than traditional rock salt. The product adheres to the roads more successfully and starts melting ice faster, says the company, and it continues working at temperatures where salt typically becomes ineffective. The enhanced deicer requires less product use for each application because the longer lasting residual effect continues working after the initial application says Cargill. "By using less of the product, less chloride goes into the environment," said Sean Riley, marketing manager for Cargill Deicing Technology. The product is less corrosive to application vehicles and easier to apply because it remains free flowing, even in colder temperatures, says the company, and it doesn't clump and stick together as regular rock salt often can, resulting in faster, easier applications.
Charge it!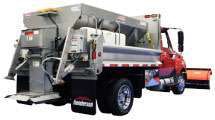 Henderson Products has introduced the "Charge" Clean-Power Series, electric control for medium-duty snow and ice truck equipment (classes 3-7). Unique to the industry, says the company, the Charge harnesses electricity and employs a CAN bus system to manage the entire snow and ice control package including the snow plow, dump body, lighting, sand/salt spreader, spinner and pre-wet system. Operator friendly, according to Henderson, numerous functions have been condensed into a single joystick controller that fits conveniently inside a cup holder. The Charge system is also intelligent, aiding in the reduction of applied material by incorporating proportional ground speed control into the spreader's material output functions. Charge, says the company, will save operators up to $14 per day in fuel costs, when compared to complex central hydraulic systems (estimate based on an 8 hour day, horsepower required to drive the equipment and a pump price of $4.00 per gallon)
http://www.bevans@hendersonproducts.com
All salt is not created equal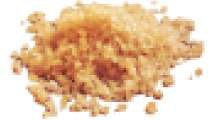 Using Thawrox treated salt instead of untreated salt can reduce applications by 20 to 30 percent, says its manufacturer. Combining the performance of liquid de-icing technology with rock salt, Thawrox was awarded the "Design for the Environment" label by the EPA. It leads to a significant reduction of chlorides entering the environment, and its nonstaining coolant will not impact roads, waterways or vegetation. There is less bounce and scatter, and less binding and clumping in the spreader, says Thawrox. It "eliminates the need to install pre-wet equipment and provides better coverage than pre-wetting techniques," says Thawrox, and it "reduces or eliminates the need for sand and sand clean-up." What's more, says the company, it's quicker and more effective than untreated salt and "reduces corrosion by 50 percent."
Chain up the easy way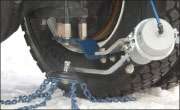 Don't stop and get out in the cold and snow when you need to – or by law have to – use chains. Onspot chains allow the operator to engage and disengage tire chains by a dashboard switch to enhance traction in snow and on ice in forward or reverse. Onspot chains are now available from more than 200 OEMs as a factory-installed option and from more than 1,400 dealers throughout North America, says the company. They're also available from International Truck, Daimler Truck and Paccar on their ship-direct programs.