Backhoes
By Tom Jackson, executive editor, Equipment World
Contractors extend trade-in times, rely on used equipment
As with just about every other category of equipment, the sales of both new and used backhoes plunged between 2006 and 2010.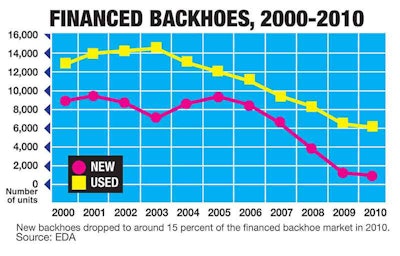 What's a little less obvious until you do the math is the ratio of new to used financed sales. In most other times the percentage new to used was 25/75, according to Equipment Data Associates. Some OEMs cite a 40/60 split in their own figures that includes all types of sales. But by 2010, new backhoes comprised only 15 percent of financed sales while used made up 85 percent.
The new normal
As the economy returns expect movement back towards more traditional sales ratios. This could be accelerated by a decreasing pool of good used machines, as customers keep their machines longer, and fewer new machines enter the market. South America is in a business cycle upturn and according to sources the region is a huge consumer of used North American backhoes.
When the demand for used equipment goes up, the population of available used equipment shrinks and the price will increase. At the same time, customers are savvy about the relative value of used and new equipment, and they are finding favorable deals for both types of machines.
The trend in backhoe inventories has been similar to any other product. In general there are fewer products in the entire supply chain, from component supplier, through manufacturer, dealer/retailer, and even the end user's inventory. In recent months manufacturers are reporting a slight increase in demand, but remain cautious in their optimism.
Vocational segments
While all segments are down, those related to governmental and commercial contracts seem to be the healthiest currently, as those tend to have some funding. Those segments tied to residential construction continue to face difficulty in the current slow housing market. This trend has also driven many contractors to broaden the segments they serve, or shift segment focus in order to maintain income and keep their employees.
A large portion of sales are driven by federal stimulus-funded projects, most of which are road improvement projects, and road building has been and continues to be the bright spot in the market. But municipal and state government budgets are lagging. Some manufacturers report strength among some of the smaller segments such as land improvement contractors.
Trade-in points
The current trend is to keep machines longer, because of the economic situation. Some speculate this is a permanent change, but a new strong economy could just as easily cause a return to a more traditional roll-out cycle.
Ultimately the decision varies depending on the market segment, the dealer's relationship with the customer, application and other factors. And while customers are keeping equipment longer, they continue to remain keenly aware of breakeven points where repair costs exceed replacement costs.
Sales of backhoes by region have not varied in any significant way over the past 11 years.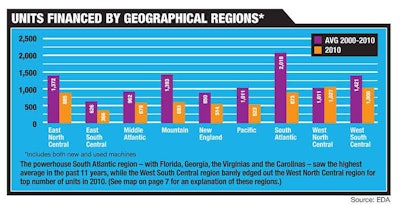 The West South Central (Texas, Oklahoma, Arkansas and Louisiana) region buys the most backhoes, followed by the South Atlantic (Florida, Georgia, the Virginias and the Carolinas). New England buys the fewest. This stands to reason as the mortgage crisis has been less severe in Texas thanks to restrictions on subprime mortgages. The state's low tax, pro-business atmosphere has kept its economic wheels turning as well. And there is considerable construction work going into gas well site development in the corner where Texas, Oklahoma, Arkansas and Louisiana meet.
If anything jumps out from these numbers as indicative of larger trends it's the fact that the Pacific region with a total population of 47.7 million people only financed 18,961 backhoes in the 11 years covered. But the West South Central with a smaller population (36.2 million) financed 39,851 backhoes – more than double that of the West Coast states. Contributing factors may be the states' no-growth philosophy and California's restrictive environmental and business regulations.
If you're considering a used backhoe anytime soon, the West South Central and South Atlantic are the regions with volume. Whether prices are any better in these regions depends on demand. And in Texas, if the state economy is any gauge, the demand is probably stronger than anywhere else in the country.
Technology changes
The 14-foot-dig-depth backhoe continues to be the predominant size class. There is a growing interest in equipping machines for increased versatility, which provides increased income potential for the contractor, while maintaining a limited fleet size.
Customers expect constant technological improvements that deliver enhanced fuel economy, durability and productivity. And that makes new equipment more productive than used. But while all manufacturers have made improvements in their products over the past years, there isn't a specific technology change that would eliminate buying late model used equipment.
One factor that is important for some customers is the emissions status of used equipment, especially for those in California. That may bring future price increases where contractors are required to add aftermarket exhaust systems, and it's not going to be an option when regulations dictate compliance.
Buying strategies
There are many factors to consider during the purchase decision, including brand, product features, performance, price, availability, financing, support, and the decision to purchase new or used. Many of these are affected by the current economy and the business outlook and can change in a matter of months.
The best decision can be made by gathering current information, combining that with your risk tolerance and future plans, and considering advice from trusted business professionals. In the end there is seldom a single right choice, but a reasonable evaluation of the right factors will usually lead you to a solid business decision.
Contractors should also consider what they're spending on their used equipment in terms of annual operational costs, relative to the machines' current value, compared to the value they could experience in acquiring new models with improved technology.•
Top backhoe buyer categories, 2000-2010*
1. Heavy construction
2. Excavation work
3. Water, sewer pipeline construction
4. General farms, primarily crop
5. Highway and street construction
6. Landscaping contractors
*New and used financed machines
Source: EDA
Wheel Loaders
by Therese Dunphy, editor-in-chief, Aggregates Manager
New units counted for just one in four machines financed in 2010
Wheel loaders are often referred to as the work horses of the construction site, particularly large machines used in heavy-duty applications. Many of these work horses may be reaching the time to be put out to pasture.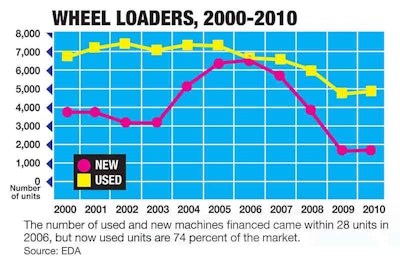 According to EDA figures, more than 60 percent of wheel loaders financed from 2000 to 2010 were used machines. With a typical replacement schedule ranging from 12,000 to 25,000 hours, most wheel loaders financed throughout the past decade may have reached or exceeded their normal life expectancy. At the same time, the recent glut in demand for used machines has gobbled up inventory of high-quality, low-hour machines.
While financing of used units typically outpaces that of new loaders, the trough in demand for new units during the Great Recession was one of the deepest the construction industry has seen. A number of factors played a part in exacerbating the cycle's low point. Used equipment hitting the market as rentals expired allowed equipment operators to purchase relatively new equipment at lower-than-normal prices. Decreased commercial and residential construction reduced the number of hours logged onto equipment. Lack of infrastructure development led to uncertainty in investment decisions. Manufacturers note that these markets are key drivers for their wheel loader sales.
Modest growth
Looking forward, manufacturers anticipate modest growth in new equipment sales, with regional recoveries preceding a national one. The hot markets of the future are those that remained steady throughout the past decade rather than the ones that fell prey to the boom-bust cycle. For example, the West North Central (the Dakotas, Minnesota, Nebraska, Iowa, Kansas and Missouri) and West South Central (Texas, Oklahoma, Arkansas and Louisiana) regions accounted for 31 percent of new and used units financed during 2010, compared to a 10-year average of 22 percent of the market. In contrast, the South Atlantic (the Virginias, Carolinas, Georgia and Florida), which typically accounts for about 19 percent of the financed machine market dipped to just 13 percent of the market last year.
Looking exclusively at new units financed last year, the market is strongest in the central regions and weakest in the coastal regions, much like the general economy.
Twin challenges
As equipment demand increases, so too may lead times. Manufacturers are beginning to cycle up production, but face twin challenges: their component suppliers must replenish their own stocks and manufacturers must gauge which units will be most in demand.
Although the equipment mantra has long been "bigger is better," equipment buyers – like homeowners – may be downsizing. One manufacturer reports a trend toward the smallest loader that can get the job done. Capital reduction programs, coupled with concerns about operating costs, make smaller models more enticing, particularly in environments where the machines can be moved into multiple roles. Although large variations in size requirements and model demands aren't anticipated, customers are reported to be ordering one size smaller than their current models.
As telegraphed by a trend toward purchasing smaller machines, fuel efficiency is expected to be a significant consideration among 2011 equipment buyers. Another factor will be the rollout of machines meeting Tier 4 Interim engine standards. With larger wheel loaders, manufacturers predict efforts to move Tier 3 inventory to make room for Tier 4 Interim machines.
Equipment operators who pull the trigger on an equipment investment should also invest in the appropriate training, manufacturers say. Given the length of service of many units, newer wheel loaders offer a variety of technology upgrades, but the operating technique needs to be modified to leverage those upgrades and to get the best cost-per-hour on fuel usage, tire wear and component life, along with increased productivity.•
Skid Steers
by Marcia Gruver Doyle, editorial director, Equipment World
While all skid steers followed housing into the depths, tracked machines are now getting a larger piece of the pie
The skid steer market plunge has been described as "dramatic" by some manufacturers, but a slow recovery has already started, with some reporting 20 percent increases in 2010 over 2009's bottom. "2010 finished stronger than we expected," says one manufacturer.
This increase is not showing a responding uptick in 2010 new sales results on the chart below because it tracks financed units, which make up just 30 percent of the deals being made today – a reflection of tightened credit and perhaps buyer reluctance to take on debt in uncertain markets.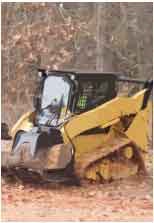 At the 2005 peak of the skid steer market, financed machines were estimated to be around 50 percent of all machines sold, with some manufacturers using 0 percent financing for 36 and 42 months to keep retail values up. Although 0 percent financing deals are still out there, fewer people are in line to buy.
Skid steers with lift capacities of 2,201 pounds and over have gained significant market share during the past decade. Contractors have been attracted to the larger machines because the additional horsepower gives them the ability to run hydro-mechanical attachments. This segment is expected to remain stable in the years ahead, however. The skid steer's innate maneuverability starts to suffer as its size increases. In addition, larger machines weigh more, have higher operating costs and burn tires faster.
As buyers have favored larger machines, the 1,751-to- < 2,001 pound lift capacity segment is now at 38 percent. According to one manufacturer, the trend towards heavier skid steers has been happening "for 20 years," prompted by smaller contractors moving up. Twenty years ago, the 1,300-pound class machine was the most popular, and now it's the 1,700 to 2,000-pound machine class that's on top.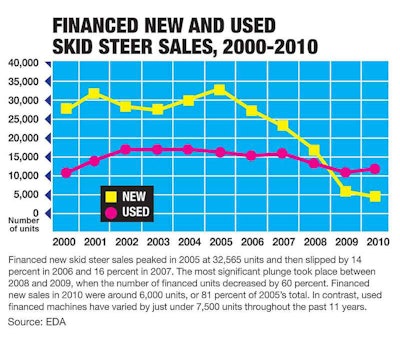 Typically, skid steer customers put three to five years on a new unit, averaging between 500 to 700 hours per year. Many high production buyers will trade them in once the warranty is gone. Today's realities, however, have people keeping their machines 15 percent to 30 percent longer than they used to, estimates one manufacturer. The second owner tends to keep it another five to seven years, after which it may literally be put to pasture doing clean up duties around a farm.
In 2011, manufacturers expect to play a little bit of catch up; however, because this year's industry gains are expected to be modest, few see significant machine shortages ahead, except perhaps with specialized units. One manufacturer does caution, however, that customers should expect some longer than normal delivery times. The largest uptick is anticipated in rentals, as contractors may be reluctant to buy in a still slow market.
One manufacturer anticipates North American sales of new skid steer loaders – both financed and bought outright – to hit about 28,000 units this year, compared with 24,000 in 2010. •
Excavators
by Marcia Gruver Doyle, editorial director, Equipment World
One of the most popular machine types by number of units sold, excavators remain solid players for 2011
Excavators got a double whammy in the downturn. Not only did manufacturers reduce their inventories, and in some cases close production plants altogether, the used market saw used excavators exported, further reducing the number of machines available in the United States.
Hopes are higher for 2011. Predictions for new excavator sales in 2011 range from "significantly higher" to a 10- to 15-percent increase – over depressed 2010 rates. Others seemed to temper their expectations, not seeing any great rebound in the near future. And as cited with other machine types, rental is expected to lead the way, especially as long-term infrastructure work is still ephemeral.

Will any of this lead to excavator shortages? Maybe. "As market conditions improve and demand grows for new equipment, some customers may experience longer-than-expected delivery times," says one manufacturer.
Fuel consumption will once again rise as a big issue as contractors take a hard look at excavator owning and operating costs. Other technologies that may be on the horizon include natural gas and electric.
Larger machines – 25 metric tons in weight or more – may see more of a market share segment as work opportunities shift from residential construction to commercial and infrastructure projects. Higher sales are also expected along the Gulf Coast and in the Midwest and Northeast.
First owner excavator use typically runs five to seven years, or around 5,000 hours, depending on application. Manufacturers are seeing users keeping their machine longer, making do until they're sure the economy is on the rebound.
Manufacturers estimate the number of excavators financed today is in the 60 to 65 percent range. •
Who's Buying?
Top buyer categories, 2000-2010 average
1. Excavation work
2. Water sewer pipeline construction
3. Highway/street construction
4. Rental and leasing companies
5. Heavy construction
No. of units bought by top five buyer catergories: 51,117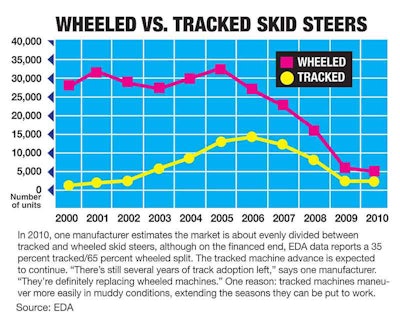 2010 ONLY
1. Excavation work
2. Water sewer pipeline construction
3. Highway/street construction
4. Utility construction
5. Oil field construction
No. of units bought by top five buyer catergories: 952
While excavation and pipeline contractors continue to be the top financed excavator buyers, utility and oil field buyers moved up in the buying hierarchy last year. Oil field construction didn't appear in the top buyer categories until this year.
COMPACT EXCAVATORS
by Marcia Gruver Doyle, editorial director, Equipment World
After turning the spigot off,manufacturers are starting to see sales upticks
Closely tied with rental – an estimated 40 percent-plus of compact excavators first enter the market via rental fleets – these machines saw an increase in used financed sales as new financed sales dropped through the floor starting in 2008.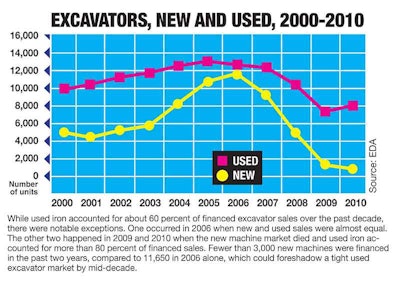 Financed sales of used compact excavators overcame new financed sales in 2009 and 2010. "It tells you clearly that rental fleets were bloated," says one manufacturer. "Used equipment yards had way too many machines and customer consignments were at an all-time high."
And new financed sales in 2010 were less than one-sixth of what they were at the 2006 peak. "We basically turned the spigot off," explains one manufacturer.
But all is not gloom and doom. Manufacturers started to see compact excavator sales increase in the last six months of 2010, reporting year-over-year increases of 17 percent to 50 percent, compared to the depths of 2009. And several anticipate another year of growth in 2011, increasing as much as 35 percent over still-depressed 2010 levels.
Part of the optimism for compact excavators in particular is the buying power of the rental market, expected to ratchet up this year. Utility companies are also buying compact excavators for residential installations. Sales this year are expected to be just over 11,000 units, says one manufacturer.
Manufacturers also expect compact excavators to continue to make inroads into backhoe sales, especially as the larger machines start to match the 14-foot backhoe's dig depths.
Finance patterns
It's not necessarily true that the smaller (and usually lower priced) the machine the more likely the buyer is to pay by cash. Some manufacturers see smaller machines financed more often since they tend to involve smaller, perhaps more cash-strapped buyers. On average, for the past three years, around 30 percent of the machines sold are financed. At the peak, when financing was easy, manufacturers estimate around 50 percent of new compact excavators sold were financed.
A matter of size
The push towards larger sizes seems to have occurred primarily in the first part of the decade. Manufacturers expect the 2- to 4-metric-ton size class, which includes the popular 3- to 3.5-metric-ton size, to remain the largest size class. This size can be easily towed by a 3/4-ton pickup and 16-foot tandem axle trailer, plus it's still narrow enough to get into a backyard.
The compact excavator classification has moved up from a 6-metric-ton to 8-metric-ton top limit, with part of the market moving compact excavator features into larger versions and part of the market moving down with mid-size excavator features. "We've seen a bit of 'mission creep' in compact equipment as the machines get large enough to handle some jobs that previously required mid-sized equipment," one manufacturer told us. But as sizes increase, so do transport costs.
Manufacturers have their eye on both size extremes, the under-2-metric-ton and over-6-metric-ton markets, which have become popular in Europe, but have yet to make a dent in the American market.
First life, second life
In normal markets these machines are traded in three to five years after averaging 400 to 500 hours of use a year. Manufacturers estimate that contractors – who are more likely than rental yards to keep their machines longer – are now keeping their compact excavators an extra year. Used machine buyers tend to put 100 to 200 hours per year on compact excavators, using them as secondary machines. Another possibility for a used machine is a start-up contractor buying a used unit to operate for a short while before he trades up.
Contractors who do make the decision to buy new still need to consider the basics: make sure the machine can handle your future needs, demo the machine and shop for incentives. "The big difference now," sums up one manufacturer, "is do you have the jobs to support the buy?"
What's ahead
No manufacturer we talked to saw inventory shortages in 2011, although some say there were moments last year when their dealers felt they had availability problems. But contractors should realize even if dealers have the popular 2- to 3-metric-ton machines in stock, a spec'd out 5-metric-ton machine might require a longer wait.
"We feel comfortable with the number of months of inventory we have," says one manufacturer. "We're now closer to a just-in-time delivery system." And there's still plenty of room to grow, since the market is only a third of what it was at its peak.
But there are questions on the horizon. As the engine horsepower range of the larger of these machines approach Tier 4 Final emissions regulations in 2013, will manufacturers choose to underpower a unit that hovers around 25 horsepower in order not to take the expected price hit? "It could refocus attention on a 2-metric-ton machine," says one manufacturer.•
DOZERS
by Tom Jackson, executive editor, Equipment World
OVERSEAS BUYERS SNAP UP USED MACHINES, CAUSING PRICES TO RISE
Financed sales of new dozers have fallen almost 90 percent from the peak in 2005. The used dozer market is off by 44 percent from the peak in 2002.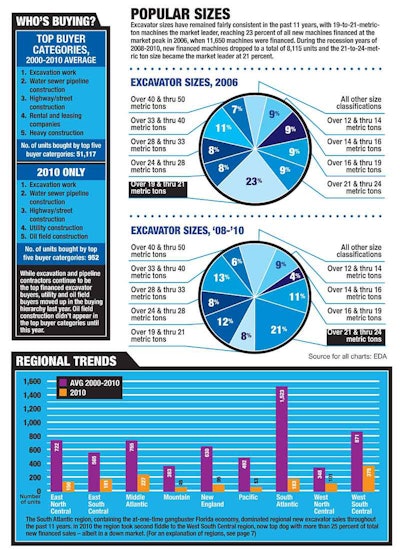 That might lead one to believe that prices for used dozers have fallen, but that hasn't been the case. The weak U.S. dollar has attracted overseas buyers in countries with more robust economies and infrastructure investments, leaving the supply of good used dozers dramatically reduced. At the start of the recession, there were high levels of repossessions and companies liquidating machines at auction. These used machines are now gone for the most part. And used prices are rising due to short supply of good used inventory.
New machines in the industry are in relatively tight supply as distributors and manufacturers carefully monitor new inventory levels and adjust production levels at the factories. Distributor rental fleets have been popular for contactors who would rather rent given the uncertainty of future business, however many of these dozers are now nearing the end of their normal lifecycle and will need replacement soon.
That good used units aren't as available as they were a year ago is a positive indicator for market usage. And while contractor fleets are aging and may not be growing, some replacement is taking place and that's driving some activity that didn't occur last year.
Vocational segments
Both waste and mining are holding their own as these industries continue to stay the course. With worldwide commodity prices rising, mining seems to have a healthy future ahead. Residential and non-residential construction are down with residential being in the worst shape. Energy is a bright spot however, especially with all the site work being done on new gas field development.
The larger machines, in general, show less decline in the industry numbers. The largest decline has been in the smaller size classes because they're more closely tied to housing starts and site prep work. The market for medium to larger machines in roadbuilding or large, commercial site prep operations and some governmental markets went down, but those weren't as affected as those related to residential building and landscaping. Also, the independent rental fleet activity has been low for the same reason. As the utilization of rental fleets went down, their dozers did not get replaced as frequently.
Trade-in points
Tight inventories, low manufacturing output and contractor uncertainty about future business has convinced many to hold on to their used machines longer than in more prosperous times – as much as one to three years longer than normal. These units may have several undercarriages replaced and maybe an engine before they are traded or sent to auction. But undercarriage life continues to be the primary determinant in making the decision.
Also, the hours contractors are putting on the tractors aren't as high as they used to be. Prior to the recession they were running dozers from 1,300 to 1,600 hours a year. Over the past two years they're running them closer to 1,000 hours a year. That means they're going to hold onto those particular tractors a year or two longer than they would have. But as the economy picks up, so will the hours.
Buying strategies
For contractors whose future bookings look soft a rental purchase option may be the best choice. It gives you full possession of the machine as long as you want it, but you can also turn it back in if future work doesn't support the cost of having the machine on your books.
Units that are in the field have a high rental utilization right now. This is especially true of machines featuring new technology, as contractors like to try out new designs on a temporary basis before committing to a purchase. One manufacturer estimated that as many as half the new dozers sold are rented before purchase.
In the early stages of the recession there was a flood of used machines on the market as contractors trimmed their fleets, so the supply was bigger than demand. That has since reversed: Demand for good used machines now outpaces supply. When buying new, customers are loading up on many of the top options for operator comfort like enclosed cabs for better year-round utilization, rippers and PTOs for winching and other applications.
Tech changes
Despite the economy, the technology going into dozers is changing the cost-value equation, some to the good, some less so. Examples:
• Good:
Increased acceptance of hydrostatic transmissions, long life undercarriage systems, and improved blade design and efficiency are enabling contrac- tors to lower bid costs.
• Good:
Telematics and embedded systems will allow closer monitoring of ma- chine location, utilization and overall health leading to less downtime, bet- ter maintenance and higher resale value.
• Good:
Rotating bushings and long life undercarriages reduce downtime and extend the life and trade-in point of dozers that have them.
• Good:
Tier 4 engines demonstrate better torque rise, which is particularly use- ful for dozer applications
• Not good:
Tier 4 Interim and Tier 4 Final will increase prices on new dozers. That will be offset by some gains in fuel economy. The impact will be mixed depending on the state or region you operate in and its emissions and air quality regulations.•
Sources: Komatsu, John Deere, Case Construction Equipment
Changing sizes
Contractors with dozers are getting creative about making fewer machines do more and upsizing to a larger dozer that can do the work normally reserved for smaller units. Three reasons:
GPS guidance systems allow big dozers to do the fine finish work of smaller units, and in some cases even replace work done previously by graders.
GPS also reduces staking costs and fuel use and saves on wear and tear so contractors can be more competitive without adding machines to their fleet.
The availability of a six-way blade on larger machines makes them more productive than in the past.
Motor graders
by Mike Anderson, senior editor, Better Roads and Equipment World
Used units continue to dominate the financed market, even as these machines gain horsepower and heft
There's an old adage about owning a motor grader: Much like the machine's operator himself, if you've got a grader and it's reliable, even if it is old and crusty, why mess with it?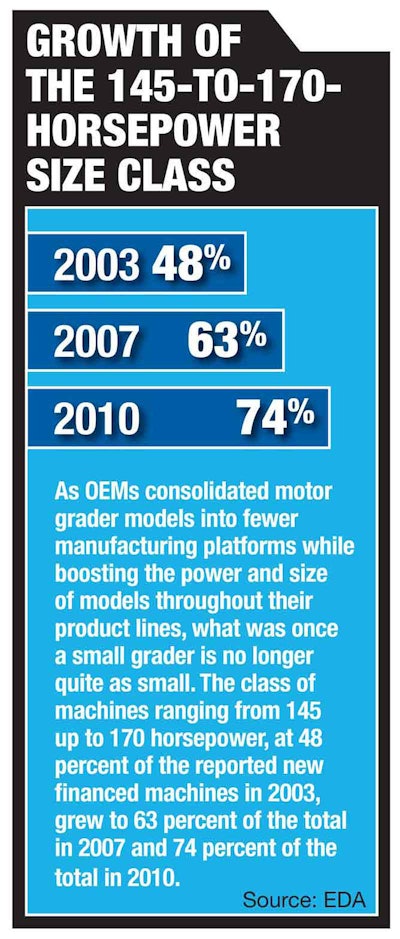 When you ultimately do go shopping for a grader, you'll find things have changed, not the least of which is that the model you think you know – or at least you knew – is not the same. Grader models, while often keeping the same nomenclature, have gotten bigger. In other words, your next 120 is not your last 120.
OEMs have consolidated grader models into fewer platforms for manufacturing efficiency sake, which has caused smaller models to come up in horsepower and weight. A move down in model size may actually put you in a machine closer to the one you had 15 or 20 years before. And now some of the technological advances of the larger units are making their way to smaller units, such as all-wheel drive on machine sizes once limited to tandem drive.
Conversely, users who need more heft are benefiting from today's higher-horsepower, larger models.
Faster machine turnovers
Average trading ages for motor graders are dropping. Technology upgrades such as machine control are prompting contractors to turn over machines more quickly, ones they once would have kept for 10 years or more. Pay close attention to grader introductions this year, as at least one manufacturer says it plans to leverage today's sophisticated GPS blade control systems.
Today's questions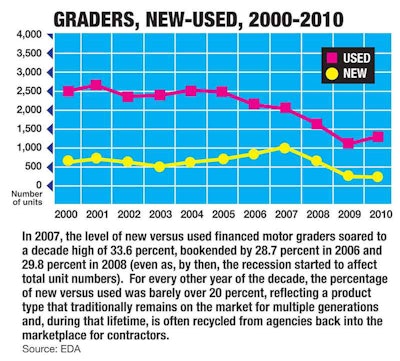 With the motor grader market's private-public split, decisions about turning over your fleet today boil down to considering different questions within the same economic climate:
• For the contractor:
"How much work do I have?"
• For the government buyer:
"I have work, but do I have budget?"
Manufacturers report inventories of motor graders declined during the economic downturn, resulting in today's longer delivery times for new units and a used market of scarcer, more expensive machines. There are reports of product specialists having difficulties sourcing competitive models for testing this year, in deep contrast to a year ago when they could instantly land any model they wanted out of rental fleets. Dealers and contractors alike are now looking further geographically for machines; for contractors that may mean looking at other makes than their preferred brand, admits one product specialist. But not all in his game agree. "The downturn in the industry typically causes a little bubble in the amount of used iron that's out there," says one manufacturer. "You can find some good low-hour machines right now."
Manufacturers say they're ready for increased grader sales in 2011 – although none would commit to how much of a bump to expect. If those expectations are realized, this may shift the market back to the latter years of the boom, specifically 2006 and 2007. According to EDA, the percentage of new versus used in financed motor graders has stayed generally consistent – around 20 percent every year from 2000 through 2010, regardless of how high or low the total units were. The only exception was 2006 through 2008, when the percentages were around 30 percent.
Those were the days, when shortages of good used iron drove sales of new. "There was just so much work going on that dealers didn't have a lot of used equipment sitting on their lots, so the alternative was to buy new equipment," one manufacturer told us.•
GROWTH OF THE 145-TO-170-HORSEPOWER SIZE CLASS
2003 48%
2007 63%
2010 74%
As OEMs consolidated motor grader models into fewer manufacturing platforms while boosting the power and size of models throughout their product lines, what was once a small grader is no longer quite as small. The class of machines ranging from 145 up to 170 horsepower, at 48 percent of the reported new financed machines in 2003, grew to 63 percent of the total in 2007 and 74 percent of the total in 2010.
Source: EDA
Double-drum compactors
by Mike Anderson, senior editor, Better Roads and Equipment World
Technology boosts turnover rates on machines with promising 2011 sales
If you're in the roadbuilding business, you prefer to own your double-drum asphalt compactors. And, if you're looking to replace or add some of those rollers in the coming months, be prepared to get in line.
So say the sector's leading OEMs in response to EDA figures that show a 32-percent drop in financed double-drum vibratory compactors from 2007 to 2008, followed by a 34-percent fall in 2009. From the 2005 market peak at 1,115 units, financed new double-drum compactor sales dropped 76 percent by the time the market troughed in 2010 at an estimated 273 units.
While most manufacturers agree overall inventories of marketable compactors were depleted during the downturn, at least one company's representative notes a recovery in demand in 2010 for his products, particularly the large double-drum models used in both local road and highway work. "Compactor inventory declined significantly at the dealer level in 2009," he told us. "Then 2010 turned out better than we thought it was going to be. Quite frankly, it exceeded our expectations."
This manufacturer continues to be optimistic, particularly looking at large highway work and government spending. This is in spite of the roadbuilding sector's seemingly never-ending wait for a new multi-year highway bill, which another manufacturer says has kept customers from buying new product outright, choosing to rent instead. Theoretically, there are plenty of rental machines, considering that the leading rental companies bought vociferously in 2005, 2006 and 2007. On average, manufacturers estimate the overall population of double-drum vibratory compactors in the United States to be 10,000.
As an integral part of the paving process, the double-drum vibratory roller needs to be matched in performance to the plant, the trucks and the paver, which means the majority of roadbuilding contractors will want to own their fleet of tandem asphalt compactors. Contractors need to be assured the roller both matches their jobs and has 100-percent availability, which can be difficult to do by relying on rental machines. This is where the larger asphalt compactors differ from single-drum soil rollers, which are commonly rented for spot work, and are less tied to other machines on site.
Popular machines get larger
From a decade ago, the large tandem asphalt compactors used on road and highway projects have generally transitioned from 10-ton, 66-inch-wide machines to 13-ton, 78- or 84-inch-wide models in order to ensure a two-wide rolling pattern will cover the required lane width. These machines still use the same operator and have essentially the same fuel bill, but cover more material, getting greater productivity with a machine that hits harder and at a higher frequency than in the past. Higher vibratory frequencies and centrifugal forces, oscillation and Intelligent Compaction have driven innovation in rollers, leading to turnover rates of four to eight years, compared to the 10 years and more of previous generation machines. The quality control/quality assurance demands of mainline asphalt paving furthers this technological thrust.
From a geographical perspective, higher utilization of compactors in southern states leads to quicker machine turnover and generally higher sales there, says one manufacturer. Great Lakes states with their long, cold snowy winters contrasted by hot summers have led sales of late for another make of double-drums.
The pressure is back on at all manufacturing plants to turn them out – a pressure only exacerbated by backlogged suppliers of such components as pumps. Overwhelmingly, double-drum compactor manufacturers anticipate shortages of product and long lead times for sales. Dealers, eager for sales in any area, are tapping their toes. "The market bounced back quicker than what we anticipated," says one manufacturer. "I can tell you that for us it was a nightmare last year. Every other phone call I got was, 'Where's my machine? Where's my machine?' and we struggled to keep up."
Compactor customers understand that most manufacturers still build machines to order. That hasn't changed, but depleted inventories in an equipment market that didn't seem to dry up to the degree that other machine types did will undoubtedly frustrate those who decide it's time to go shopping. "I think the message is now starting to get across," says a compactor manufacturer. "When we come back to them with the lead times, they're realizing they'd better get in line … fast."
"Sales are going to be up – that's positive for everybody – but are we going to be able to meet the expectations of the market is the question," he continues.•
Sources: BOMAG, Case Construction Equipment, Caterpillar, Hamm, Volvo Construction Equipment
Who's Buying?
Top financed buyer categories of double-drum rollers, 2000-2010*
1. Highway and street construction
2. Excavation work
3. Concrete and asphalt work
4. Water, sewer pipeline construction
5. Rental and leasing companies
*Both new and used